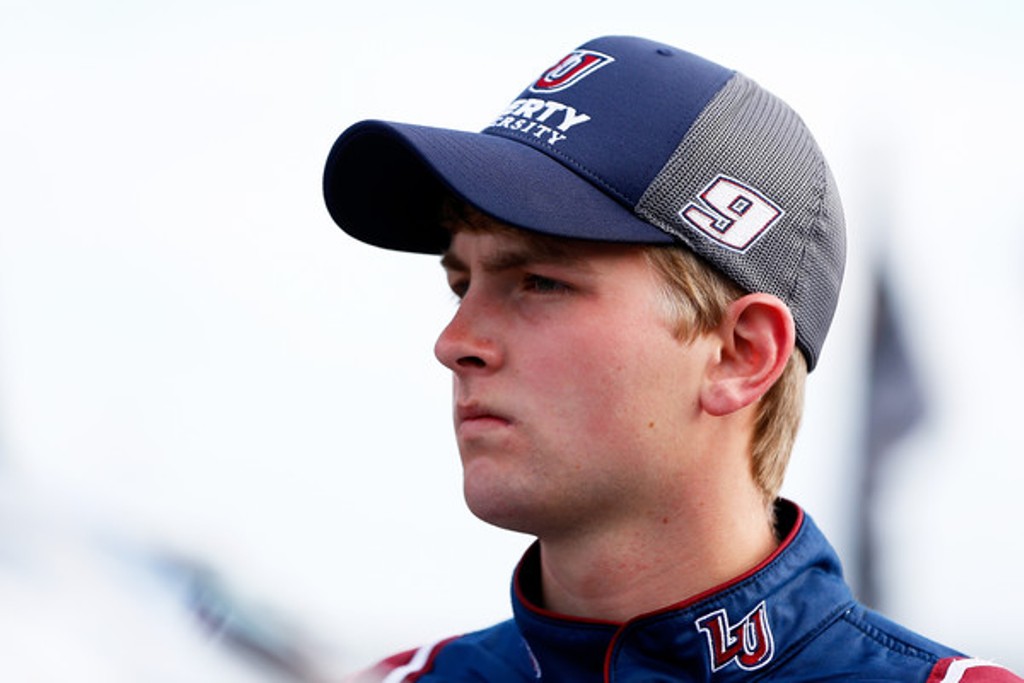 Rookie William Byron has been on a tear in the NASCAR Camping World Truck Series this season, but now the series heads to a track that demands respect, and tends to favor veterans – Bristol Motor Speedway.
Byron's a five-time winner on the season thus far, and recorded a win in the series' last outing at Pocono Raceway. The Kyle Busch Motorsports driver has never raced a truck around the World's Fastest Half-Mile, but he does have a NASCAR K&N Pro Series East start there. In last year's K&N race, Byron led the first 44 laps of the race before finishing second to race winner Kyle Benjamin. One thing Byron has going for him heading into the Wednesday night race will be that he can lean on his team owner and four-time Bristol Truck winner, Kyle Busch for advice.
Not only is Timothy Peters one of the best short track aces in the series, but he also happens to be the only past Bristol winner in the field. Peters stomped the field en route to winning at Bristol in 2012 where he led all 204 laps. Peters came back to Bristol the following year and finished second to Kyle Busch after leading 125 laps. The Virginian short tracker hopes to make his mark in Thunder Valley once again.
The past two Bristol races have been won by Brad Keselowski Racing drivers, however, neither driver will be in the field. Keselowski, himself, scored his only Truck Series victory in the race in 2014, while Ryan Blaney wheeled the No. 29 to victory lane in 2015 after having to serve a pit road speeding penalty early in the race. This year, BKR will bring three trucks to Bristol. Full-time competitors Daniel Hemric and Tyler Reddick will drive the Nos. 19 and 29, while 17-year-old Austin Cindric will pilot the No. 2. Both Hemric and Reddick placed inside the top-10 at Bristol last year, while Cindric makes his first start at the track.
Expected to be two of the strongest competitors for Wednesday's race are Matt Crafton and Cole Custer. Between the two of them, they led 150 of 202 laps in last year's race. Crafton finished seventh, while Custer was disappointed with a 16th-place finish after leading more than half the race. Custer's involvement in a late-race crash with Spencer Gallagher has the youngster eyeing redemption in this year's running of the race.
Several drivers such as Byron, Crafton, Johnny Sauter, John Hunter Nemechek and Christopher Bell are already virtual locks for the Truck Series' version of the Chase. With the races winding down to win and lock yourself in, desperation time has come. After running upfront for the entirety of the race at Pocono, Canada's Cameron Hayley almost secured his spot in the Chase, but instead was forced to settle for a second-place finish. A win at Bristol would do wonders for the driver currently tied for the final Chase spot with Ben Kennedy.
While drivers like Hayley turn to Bristol as a chance to lock in their Chase hopes, some of the smaller budget teams look at Bristol as a place to showcase their talents. Henderson Motorsports' Caleb Holman proved his worth at Bristol last year after qualifying his No. 75 in eighth, and running inside the top-10 for the beginning of the event until a crash dropped him to a 31st-place finish. Holman showed speed earlier this year at Eldora Speedway where he earned the pole, and finished second in his heat race. Holman has a best finish of ninth this season at Atlanta Motor Speedway.
Parker Kligerman in the No. 92 for Ricky Benton Racing could also contend for a win at Bristol. The part-time team has shown speed all season, and has three top-10s including a third in the season's opening race. Kligerman's had his own success at Bristol in the past, too. The 26-year-old finished second in this race back in 2012 driving for Red Horse Racing.