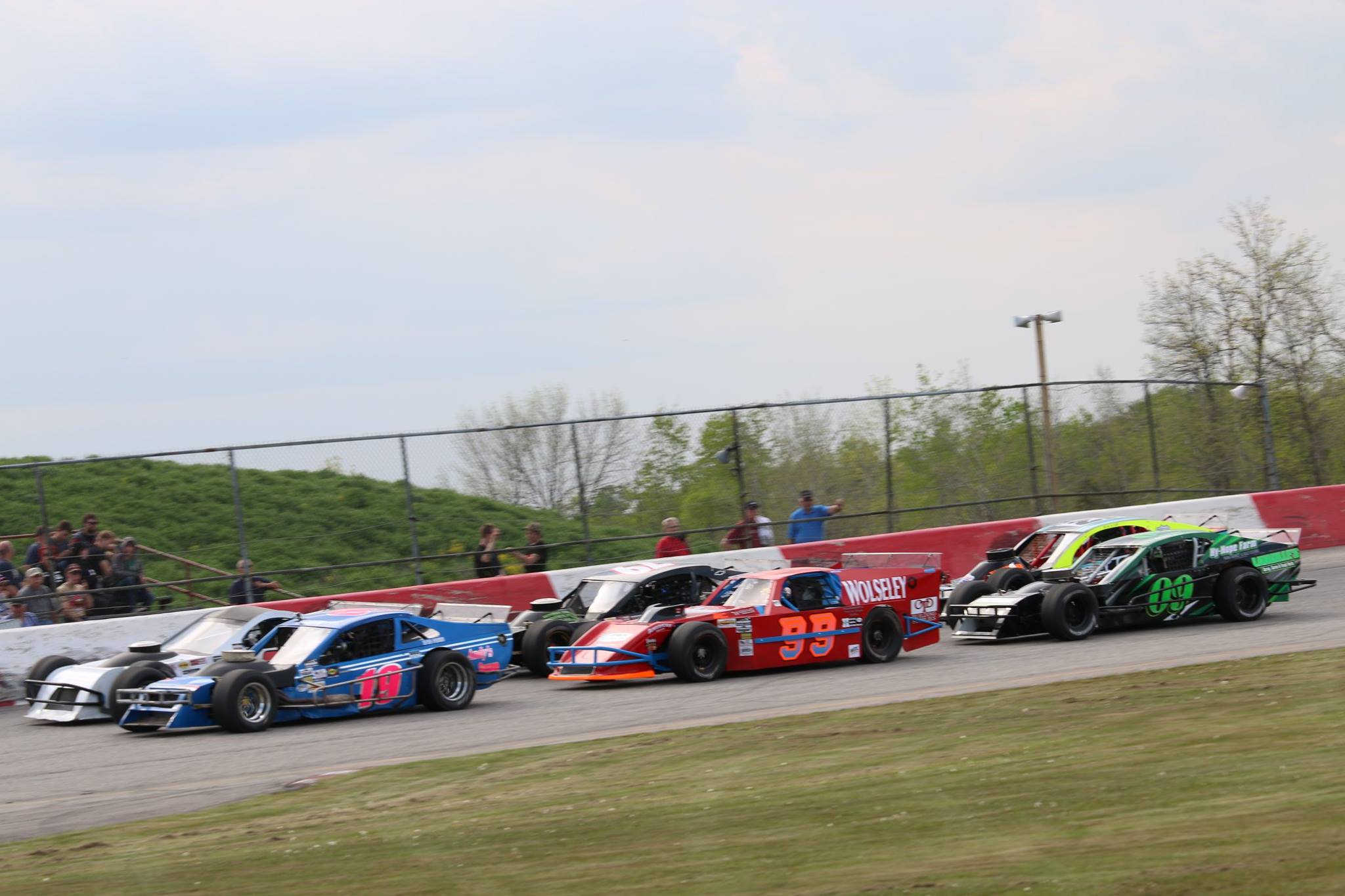 After a thrilling season of action, the grid is set and the OSCAAR Modified Race for the Cup kicks off this weekend at Sauble Speedway.
With the seven drivers who will contend set, it's now all up to how they perform the next three races in whom will be the champion.
The OSCAAR Modified and Midget Race for the Cup will be four races in length. Due to only seven drivers qualifying, nobody will be eliminated following the August 27 race at Sauble Speedway. If there had been eight drivers, the lowest would've been eliminated on Saturday night.
However, the next two races will be more interesting as the lowest two remaining drivers will be eliminated in the following races at Full Throttle Speedway on September 10 and at Flamboro Speedway's Oktoberfest on October 1-2.
The final three drivers will be set for the final championship showdown at the Autumn Colours Classic on October 7-9. The three remaining drivers are guaranteed to start fourth, fifth, and sixth. The driver who accumulates the most heat race points during Autumn Colours weekend will earn the fourth starting spot and so on. The top finisher of the three contenders in the final race will be declared the 2016 OSCAAR Modified Champion.
With the format set, here is how each driver has gotten to this point, as well as their past success at Sauble Speedway.
Luke Gignac
In his rookie season, Luke Gignac has a great chance to take home the victory as he has finished in the top-eight in each of the nine races thus far this season, including five top-fives. Notably he was only a lap and a half away from his first career victory when a mechanical issue caused him to not finish.
"Just keep racing like we have all year and not mess anybody up, and hopefully they won't mess you up," Gignac said. "Just try and race clean, and stay out of trouble."
While Gignac has yet to run an OSCAAR event at Sauble Speedway, he competed in the Rick Woolner Memorial there earlier this season, posting a top-five finish.
Gary Elliott
Despite battling some mechanical issues thus far this year, Elliott finds himself as one of the seven qualified drivers. He has been solid, posting six top-10s in the nine races. The biggest event of the season had to be a couple weeks ago at Flamboro Speedway when he scored his first career modified feature victory.
"I'm really looking forward to the Chase," Elliott said. "It should be exciting. I believe there's seven cars that are eligible to be in the Chase, and I've been saving my tires for the final few races. I think tires are important. Tonight (at Delaware) I ran old tires, and I think for races that don't matter, the guys that save the tires will make the difference, and I'm fortunate as I like all four tracks that we're going to racing at. Next week is at Sauble, then Full Throttle, then Flamboro, and then Peterborough. So I'm really looking forward to it.
"I really want to be in the top-three when it comes to the end. We've been a fourth or fifth place car pretty well all year. There are some really good guys. Gary (McLean) will be hard to beat, as always; he'll be the one to beat, for sure. There are a few other cars – A.J. has been running awesome, and Luke has been fantastic this year. He's going to win the Rookie of the Year hands down, but he's also been doing great. It's awesome to see him running as well as he is.
"I'm looking forward to being one of the cars at the end so Sauble is one of the favourite tracks of mine; Full Throttle is so-so – had a second there and a fifth – so I'm looking forward to not being eliminated. Flamboro is my home track so I have lots of laps around there. So I'm looking forward to making the big one at Autumn Colours. It'd be awesome to be in the final three."
He's done well at Sauble in the past, posting a pair of top-five finishes, including a runner-up in 2014.
Dan Price
Price has faced his fair share of issues thus far in 2016, but has been solid with five top-10s this season. Notably, he had his best finish this year of fifth just a couple weeks ago while at Flamboro Speedway.
"I wish the points were the way they should be, and the guy who scores the most points wins – but we got what we got," Price said. "I guess it's for the fans and we're just going to have better nights than I had tonight and a couple weeks ago at Flamboro. We got to figure it out and really, I haven't run that well at Sauble. So it's a big unknown so we're taking it one race at a time, and seeing what happens."
Despite this being his second year of competition, this weekend marks his first Sauble Speedway modified start.
A.J. Emms
The sophomore season for Emms is going pretty well as despite a mid-season wreck at Delaware, he's posted five top-five finishes this season, highlighted by a pair of runner-up finishes.
"We're going to make some changes," Emms said. "We're going to change things up, try and keep improving like we have each week. Now the drivetrain needs some work. We've been working on handling – it's been good, but we'll keep getting better. Just looking forward to a fun Chase and that's what this is about. Hopefully we can have some positive finishes throughout it."
He was solid at Sauble last season, finishing eighth, and posted a top-five in the Rick Woolner Memorial earlier this year.
Gary McLean
When it comes to OSCAAR Modified competition, the man to watch is always Gary McLean. The four-time series champion has finished in the top-three in each race he's run this year, except the season opener at Flamboro. On that note, his victory on Friday night at Delaware Speedway marked his fourth of the season.
While the Chase format isn't something he's a super fan of, he said he's set to have some fun and see what happens.
"We're going to race every race like we've been racing them, have fun and do what we've been doing," he added.
He will carry the positive momentum at Sauble Speedway, where he has two podiums to go with two finishes outside of the top-10.
Cory Horner
Cory Horner is the man known for consistency as he's always in the top-10 each week, having posted seven top-10s this season. Despite having not reached victory lane yet in his career, he knows what it takes with two podium finishes this year.
"Heading into Sauble, the car needs to get a lot better," Horner said. "These last few races are all about who will be winning and running up front, and I don't think you will be able to finish fifth or sixth to win the championship this year.
Notably, he finished seventh last year at Sauble.
John Harper
John Harper's season been a tale of two stories – but he's on the right side right now. After starting the year with five finishes outside of the top-10, he's posted top-five finishes in each of the last four races. It's worth noting he's one of the drivers with a win under his belt this year, too, as he picked up the win earlier this month at Flamboro Speedway.
Sauble hasn't been his best track in the past, though, with only one prior top-10 finish.