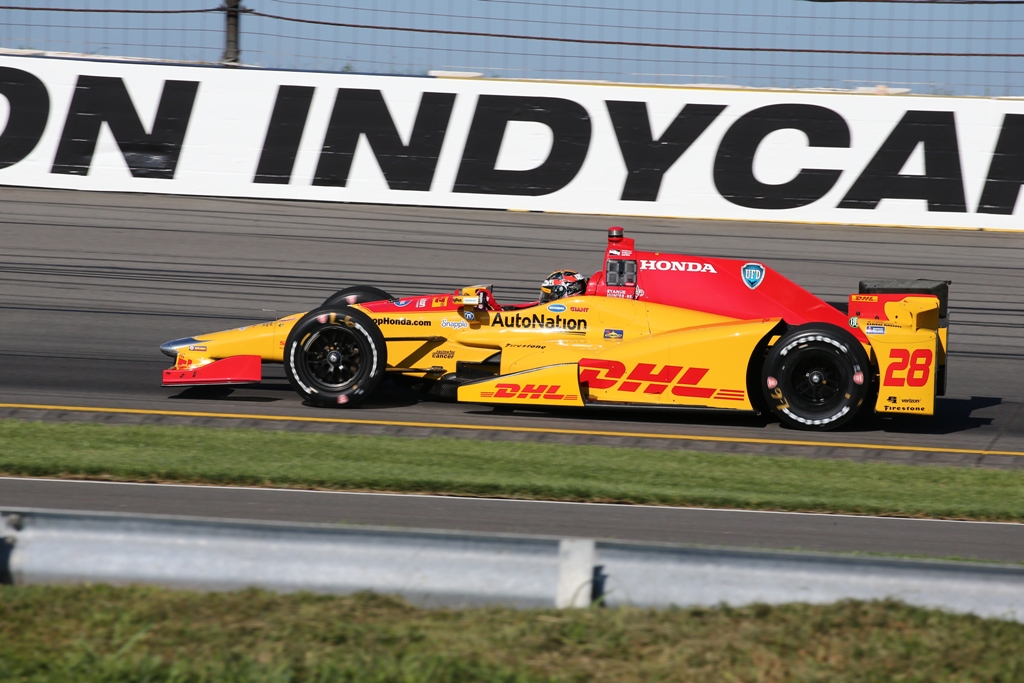 Ryan Hunter-Reay may have started at the back of the field, but he didn't finish there as he completed Sunday's race at Pocono Raceway on the podium. 
Coming into Pocono, the driver of the No.28 DHL Honda has had an up-and-down season so far in 2016 with six top-10s in the 12 races, including a couple top-five finishes. Between wrecks and mechanical issues, needless to say the man is frustrated. Perhaps the frustration is fueled even further as the 2014 Indy 500 Champion hasn't won a race since he won at Pocono last season. 
RHR's weekend at Pocono Raceway started off in more frustration as during the first practice on Saturday, he got loose and lost it into the wall. His car was completely destroyed so his team had to bring out his back up car. The crew quickly began to prepare it for qualifications, however, the team wasn't able to get his car set-up in time for pre qualification inspection. Therefore Ryan was not able to qualify the car and would be starting in last.
As soon as the green flag waved in the rain delayed race on Monday, the 2012 IndyCar Series Champion charged his way from last till first.
"Yeah, I can't help but feel like that 28 DHL Honda should have been in Victory Lane today," Hunter-Reay said. "It was there when I needed it, there when I needed to bide my time. I did. There's very few times in your career when you get a car that you're completely in line with and it's doing everything that you need it to. That's what I had today. It was like a 2014 Indy 500 car. I just don't know what we need to do. The engine shuts off while we're leading. I could sit here and sound like a whiner about it, but it's frustrating. Can't be doing anything right."
Once the Fort Lauderdale, Florida native made it to the front he battled fellow competitor Mikhail Aleshin for the lead, leading 31 laps total throughout the race. But after a one of his green flag pit stops and while leading the race he started to slow on the front stretch, radioing his crew that he had no power.
"Finally when I was in pit lane, almost stopped, I thought, All right, let me clutch it one more time and try it," Hunter-Reay added. "Cycled it again real quick almost to a stop, it fired. Are you kidding me? I rejoined the race a lap down, got the wave around on the yellow, started from the back, finished third. Real frustrating. Trying to smile about it, trying to be upbeat about it. To have a day like we did today, finally get that win in there, very disheartening."
Hunter-Reay contributes his finish today to the fact he had a good car and had a great start. He knew once everyone got settled into their rhythm it would have been hard to make passes so therefore he quickly darted his car to the outside at the start to pass as many cars as he could.    
"On the start, I thought, Hey, let's go for it again," Hunter-Reay added. "Made up, like, eight spots on the start. It was a good start. Good way to settle into the rhythm. You always take a big risk when you do that because you're not sure where the grip level is going to be. It's like jumping into the unknown. We've seen a lot of guys loose the rear of the car into turn one. Took a leap of faith. It paid off. It's that fine hero and zero line, and you want to try to stay on the hero side. That's where I was trying to be."
At the end of the race his fellow competitors Ed Carpenter, Marco Andretti and Josef Newgarden as well as his team owner Michael Andretti all came into RHR's pits to applaud his drive on the track and to tell him he had one hell of a drive out there. Hunter-Reay says its nice to have a pat on the back sometimes specially from other drivers, however when you see the confetti going off in Victory Lane for the winner of the race and it's not you, it makes you realize the missed opportunity.
"You know, it was a good day, good drive," Hunter-Reay quoted. "We had the car to compete for a win. I'm not going to sit here and say we would have won, because that's not fair to anybody. We needed to be there in the fight to really prove that. But the car shut off while we were leading. We drove through the field twice. It was a good day on that side of it. But a huge opportunity missed. I really wanted to win. After this whole season, there hasn't been one year where I had a full-time drive that I haven't won a race. Today was a good opportunity, for sure."