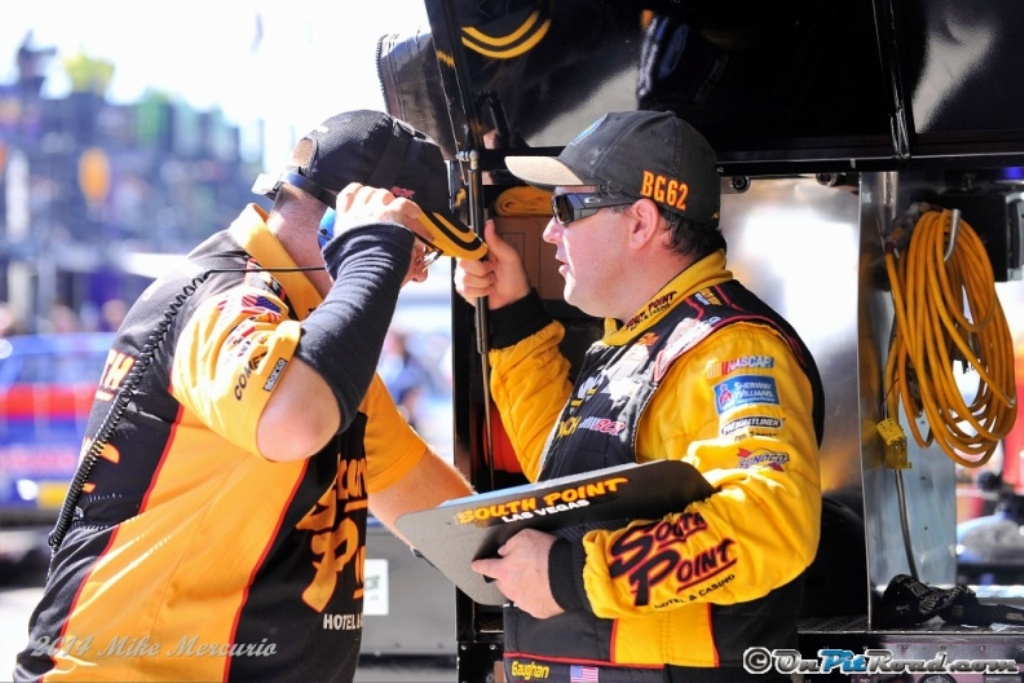 While the NASCAR Sprint Cup Series and Camping World Truck Series are in the Irish Hills of Michigan, the XFINITY Series drivers will be tackling one of the trickiest road courses in North America in "Cheesehead Country."
Road America in Elkhart Lake, Wisconsin has played host to six XFINITY Series races since 2010, and all six have seen different winners. With only one former winner in the field this year, several drivers look to capitalize on a possible race win.
The only past winner in the field is 2014 race winner, Brendan Gaughan. Gaughan took a surprising win at the 14-turn road course after wet weather conditions turned to dry late in the race. Despite going off track several times throughout the race, Gaughan put his road course experience to good use to score his first career XFINITY Series win. The driver of the No. 62 South Point Chevrolet for Richard Childress Racing has yet to win this year, but has scored 11 top-10 finishes so far this season, including in both road course races at Watkins Glen and Mid-Ohio.
One of the favorites to win hails from Lachenaie, Quebec. Alex Tagliani returns to the seat of the No. 22 Discount Tire Ford for the only time this season after running a partial schedule in the NASCAR Pinty's Series. Over in the Pinty's Series, Tagliani has already won three times this season, including a win on the Streets of Toronto. Tagliani nearly won at Road America driving for the Captain in 2014, but a cut tire under caution in the closing stages of the race dropped him to 24th. Tagliani didn't roll over and give up, though. He took advantage of the caution and switched to slick tires while everyone was on the wets, and drove from 24th to finish second in a green-white-checkered finish. If Tagliani can show that same perseverance this weekend, he'll be tough to beat.
Mid-Ohio race winner Justin Marks is back in the No. 42 for the first time since scoring his maiden series victory. Marks shocked the racing world by taking his first win in monsoon conditions. The road racer comes from a rain racing background, but still, nobody expected to see him take the win. Marks proved his talent on the road courses just a few weeks ago, so a second win is very much in the realm of possibility.
Australian fans will have three drivers to cheer for at Road America, and all three stand a good chance of scoring a win. Owen Kelly will be back behind the wheel of the No. 18 Tunity Toyota for Joe Gibbs Racing. Despite struggling at Mid-Ohio, Kelly has proven in years past that Road America favors his driving style. In four career XFINITY Series starts, he has two top-fives, both of which came at Road America. Kenny Habul, also from Australia, will be back in the No. 88 for JR Motorsports. Habul finds himself in strong enough equipment to steal a win from those going for a Chase berth. The third Aussie in the field is James Davison, who will make his series debut. Davison will drove the No. 90 for Mario Gosselin's team. Andy Lally drove the car to a seventh-place finish at Mid-Ohio after leading laps, so the car has proven to be a contender on the road courses. Davison comes from a sports car background, and has also participated in two Indianapolis 500s. He finished 16th in the 33-car field in 2014.
Alon Day was one of the feel good stories from Mid-Ohio. Day finished 14th in series debut, but the Israeli driver driving for Carl Long's low budget team ran inside the top-five for the majority of the event. The NASCAR Next driver is back at Road America for his second series start, and after putting in one of the most brilliant performances of the season, he should not be overlooked heading into this weekend.
If you're looking for a dark horse pick for this race, look no further than Darrell Wallace, Jr. Wallace, known around the garage as "Bubba", doesn't consider himself a strong road racer, but his stats show otherwise. Wallace ran well at Mid-Ohio in the rain, despite a few off-course incidents. He ran inside the top-five, but finished just outside the top-10. In his Road America debut last season, the Roush-Fenway Racing driver scored a fifth-place finish, and finished in the top-10 at Mid-Ohio a few weeks prior. Wallace isn't your typical road racer, but if he can mash down the aggression on track, he could be in for a strong day.
Richard Childress Racing drivers Ty Dillon and Michael McDowell join teammate Brendan Gaughan as strong contenders at Road America. Dillon was leading late in the race at Mid-Ohio before a mistake caused him to slip off course. Dillon went on to finish fourth after leading five laps, but it was a good effort for the youngster not normally known for his road course prowess. McDowell, on the other hand, is known for his road course prowess. Teams actively seek out the Sprint Cup veteran for road races in the XFINITY Series, and RCR got their hands on him for Road America in the No. 2.
Three championship contenders to watch during the race are undoubtedly Elliott Sadler, Daniel Suarez and Erik Jones. Each have won races this year, but they have also each had their own issues on the road courses this season. Sadler has had the least issues. He's made mistakes, but was able to rebound and finish in the top-10 in both races. Suarez was strong at Watkins Glen, but finished 23rd at Mid-Ohio. Jones has struggled the most. He was involved in accidents in both road races, and triggered a multi-car crash at Mid-Ohio. Jones rebounded for a top-10 at Mid-Ohio, but is in need of a mistake free race in Wisconsin in order to gain his confidence back.