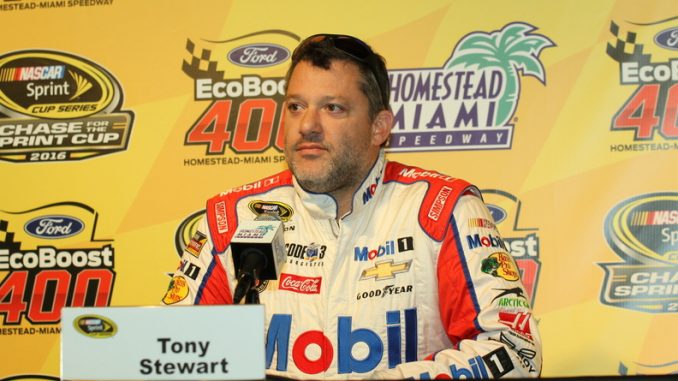 In February Stewart-Haas Racing announced that it would be switching from Chevrolet to Ford for the 2017 season. This decision raised several questions. Most importantly, why would a team having solid success with one manufacturer switch to another manufacturer?
Statements from team co-owner, Tony Stewart, included "It was a big decision; it's what's best for our company going forward.", he did not, however, indicate a specific reason for the change.
While performance for any team can always improve, the SHR team has performed well since its formation in 2009 when Stewart became co-owner of the organization owned by Gene Haas. SHR has won two championships in NASCAR's premier series, one with Stewart in 2011 and the other with Kevin Harvick in 2014, the same year he joined the organization.
The team has also enjoyed 36 trips to victory lane and numerous top-five finishes. These are results that many teams would love to have. Additionally, Chevrolet has won the manufacturer's championship 13 years in a row until the streak was broken in 2016 by Toyota. The last time Ford won the title was 2002.
Currently there is only one Ford team that competes at same level as SHR – Penske Racing. Penske drivers Brad Keselowski and Joey Logano consistently compete for wins and championships proving that Ford can compete with Chevrolet and Toyota.
Roush-Fenway Racing, the long-time flagship team for Ford, has fallen from prominence over the last several years. RFR will reduce to two teams in 2017 with drivers who have yet to prove themselves at the Cup level. The team's veteran driver, Greg Biffle, announced he would not return to the team in 2017.
RFR has technical alliance with a smaller, under-funded team, Frontrow Motorsports, who made the Chase in 2016 with driver Chris Buescher. Buescher made the Chase by winning a fog shortened race at Pocono. Buescher's overall performance was less than stellar however. There was some concern that the team would not qualify for the Chase based on the criteria that requires a team to be in the top-30 on points.  Other Ford teams include, Wood Brothers Racing and Richard Petty Motorsports, neither of which made the Chase or visited victory lane in 2016.
Perhaps Ford has decided it was time to do something to regain its previous glory and made SHR an offer it could not refuse. Stewart stated, "…you can't overlook great opportunities."  Given the fact that SHR has proven they have the talent within the organization that can put a highly competitive race car on the track and Penske Racing has proven with the right people, Ford can compete, it could be the final piece of the puzzle needed for Ford to once again be a dominant force in NASCAR.
Ford's global Director of Performance, Dave Pericak, believes it will be dominant once again, and also pointed out this move will not affect any other Ford teams stating, "We believe the addition of Stewart-Haas Racing in 2017 will give our program a major boost in terms of being in contention for both drivers' and manufacturers' championships every year," adding, "this is just another addition; we're not eliminating or reducing support to other teams."
SHR should be just as competitive at the start of the 2017 season, if not more so, than in previous years. While many believe the team will struggle early in the season as it adjusts to a new manufacturer, they overlook the fact that this move has been in the works for well over a year. The team has been testing and preparing during this time. SHR is not going to show up at Daytona with no idea what will happen. They will be prepared.
In 2017, it is very possible that we could see Ford win the manufacturer's title and an SHR team hoisting the trophy in Homestead becoming the first "Monster Energy NASCAR Cup Series Champion."