Rick Ware Racing Returns to Trucks in 2017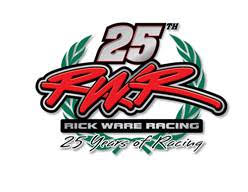 Rick Ware Racing has spent the last several years competing in the NASCAR XFINITY Series with multiple drivers, but the team will face a change of scenery in 2017 as they will run a full NASCAR Camping World Truck Series schedule instead.
Drivers Spencer Boyd and Cody Ware will split time in the Truck Series next year using owner points purchased from Bobby Dotter's SS Green Light Racing.
Boyd, who made his XFINITY Series racing debut for the team at Iowa Speedway in 2016, is expected to compete in approximately half of the 23-race schedule with Ware filling the remainder of the races.
"Our effort in 2016 was about getting approved for all tracks and feeling comfortable at this level of racing," said Boyd.  "We worked with many great partners to achieve a successful debut season.  I am thankful for the opportunities I was given in 2016, now look forward to going fast and competing with Rick Ware in 2017."
The team celebrated its 25th year in NASCAR competition in 2016. Among the accolades the team has achieved over the years includes a best finish of third by Kevin O'Connell in an XFINITY race in 2014 at Road America, and Timmy Hill's run to XFINITY Rookie of the Year in 2011. The team most recently scored a seventh-place finish with Jeff Green at Daytona International Speedway in July.
Ware's last foray into full-time Truck Series competition came in 2011 with multiple drivers that included a best finish that year of seventh at Daytona International Speedway with Jeffrey Earnhardt.
"I have followed Spencer's career for many years now," said Ware. "He has impressed me at every level.  Our organization is excited to have this young talent on our team and personally it's rewarding to see our dreams of years ago come to life."
Sponsors, a crew chief and the team's number for the 2017 season will be announced at a later date.