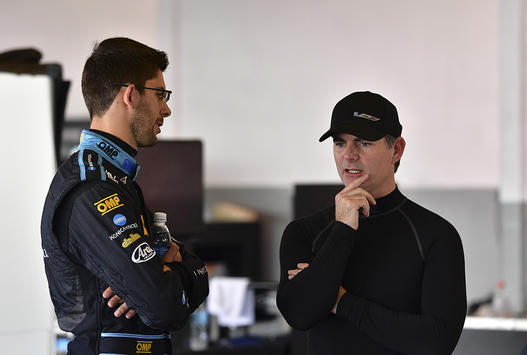 The Rolex 24 Hours of Daytona is quickly approaching, which means race season is officially on. Only a few days remain until cars hit the track for the race.
The fun thing about the Rolex 24 is the representation of different racing series in the elite endurance race. Several IndyCar drivers participate each year, retired Formula 1 drivers take part and a fleet of NASCAR drivers are usually in attendance. However, this year's numbers of drivers from other racing series, in particular NASCAR, are down.
Notably missing from the field are Chip Ganassi Racing drivers Jamie McMurray and Kyle Larson, plus A.J. Allmendinger. All three are past overall winners, but each find themselves out of the field for this race. McMurray and Larson have driven Ganassi's Daytona Prototype in past years, but that program no longer exists. Ganassi now runs four of the Ford GTLM's, but the technicality of those cars makes a difficult adjustment for drivers not familiar with the equipment, which is likely the reason for McMurray and Larson's absence. Allmendinger was left out of Michael Shank Racing's lineup for the first time in the last 10 years due to a new deal Shank made with Honda. The deal required Shank to bring in some of Honda's IndyCar drivers to drive, leaving Allmendinger out to dry. Allmendinger has said he has no hard feelings and understands.
Jeff Gordon is easily the most recognizable NASCAR name that will be roaming the paddock at Daytona International Speedway. The four-time Monster Energy NASCAR Cup Series champion will make his second Rolex 24 start, and first since 2007. His previous attempt came with Wayne Taylor Racing as will his second. Gordon will team up with Jordan and Ricky Taylor as well as Max Angelelli, who will retire from sports car racing following the race. In Gordon's first attempt at the race, he finished third overall. If all goes well for Gordon, he could pick up a Rolex watch on Sunday afternoon with an overall win.
The NASCAR connections don't stop at Gordon, though.
Two drivers who will run for Rookie of the Year in the NASCAR Camping World Truck Series in 2017 will make an attempt at the Rolex 24. Austin Cindric, son of Team Penske President Tim Cindric, will compete in the GT Daytona class driving for the new Lexus factory program. Cindric's spent much of the past few years driving for Flying Lizard Motorsports in a Porsche in various sports car races, but he'll contest his first Rolex 24 this weekend.
Kaz Grala, who will drive for GMS Racing in the Truck Series, will drive for Change Racing, owned by former NASCAR team owner Robby Benton, in GT Daytona. The 18-year-old ran this race for Change Racing last year, but the team finished 18th in its class.
One more NASCAR driver has a very real shot at winning a new watch this Sunday as well. Justin Marks, winner of the XFINITY Series rain race at Mid-Ohio Sports Car Course last August, will drive for Turner Motorsport also in the GT Daytona class. Much like Cindric and Grala, Marks comes from a road racing background, and is no stranger to sports car racing. Marks has eight wins to his credit in Grand-AM, the precursor to the IMSA WeatherTech SportsCar Championship, including a 2009 Rolex 24 class win.
Although NASCAR's representation in the Rolex 24 may look weak in numbers this year compared to years past, there is a strong possibility at least one of the four drivers mentioned above could win in their respective class.