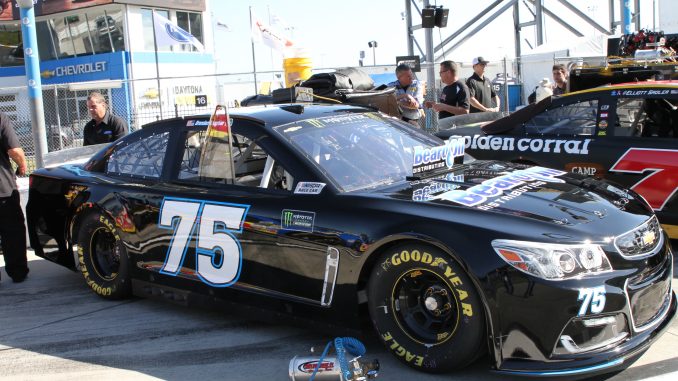 Six drivers entered Daytona 500 Qualifying earlier this afternoon labeled as open drivers. These drivers are non-chartered and enter Sunday's race without the guarantee of qualifying. 36 Drivers entered today's qualifying session with the guarantee of knowing they will start in the 59th Running of The Daytona 500.
All six drivers were chasing two postilions just like the rest of the field but the two positions the open drivers were chasing were the two fastest of the six drivers who turned laps today in qualifying. The two drivers who gained those positions in 2016 were Ryan Blaney and Matt DiBenedetto, both of which were chartered drivers for the 2017 Season. Today two drivers took the same route that the two noted above did this season and ultimately made Thursday's Can-Am Duels a lot less stressful.
Brendan Gaughan and Elliott Sadler both are guaranteed to race next Sunday joining the 36 chartered drivers. Gaughan and Sadler were the fastest of the open drivers. Brendan Gaughan, driving the #75 Chevrolet SS, will start his second Daytona 500 of his career. He qualified 33rd to lock into the Daytona 500. Elliott Sadler, driving the #7 for Tommy Baldwin Racing, will start his 14th Daytona 500 of his career. He qualified 36th to lock into the Daytona 500.
For the other four drivers, it will all be decided for them on Thursday in the Can-Am Duels. DJ Kennington, Corey LaJoie, Timmy Hill, and Reed Sorenson will all have their fate decided in the annual Twin Races. Reed Sorenson and Corey LaJoie will join pole-sitter Chase Elliott in Duel No. 1 while D.J. Kennington and Timmy Hill will be in Duel No. 2.
Each race will be stressful for each driver as the top finishing open driver in each duel race will qualify for the 59th Running of The Daytona 500. This means that Corey LaJoie and Reed Sorenson will have to battle it out in the first duel for the 39th place starting spot while Hill and Kennington will battle in the second duel for the final spot in the race.