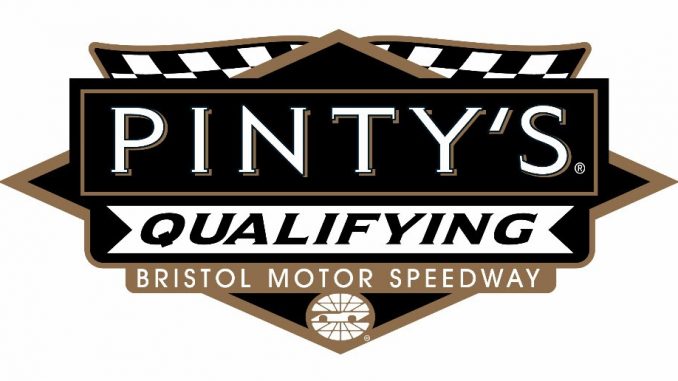 BRISTOL, Tenn. (March 8, 2017) – Pinty's Delicious Foods, a Canadian-based company that produces and supplies fresh and frozen chicken products to retail and food service, has become the newest member of the Bristol Motor Speedway family.
Pinty's is now the entitlement partner of Monster Energy NASCAR Cup Series and XFINITY Series qualifying Pole Awards for the August NASCAR event weekend.  As a new official partner of BMS, the company's chicken products will be a tasty addition available at concession stands on the concourse.
"Chicken and chicken wings have long been a staple for sports fans and we look forward to welcoming Pinty's to the Bristol Motor Speedway family of sponsors and introducing their great products to our guests and to NASCAR fans across America," said Jerry Caldwell, executive vice president and general manager at Bristol Motor Speedway. "Pinty's is a well-known supporter of sports in Canada and they are headed to the U.S. to showcase not only their products, but also their passion for this sport."
Pinty's partnership with Bristol Motor Speedway makes perfect sense as the company arrives in the United States. Although having only been distributed in Canada, Pinty's is launching its products (which include chicken fingers, chicken burgers, chicken nuggets, chicken wings and more) at all 136 Food City locations. The company will offer its normal products in-store but will also add a special Bristol twist: exclusive co-branded Food City 500 chicken products in the frozen food section in all Food City locations celebrating Food City's long-standing partnership with Bristol Motor Speedway.
"Pinty's is excited about our relationship with Bristol Motor Speedway, a highlight of the NASCAR season and proud to be associated with Food City," said Tony Spiteri, vice president marketing of Pinty's Delicious Foods. "We could not ask for a better way to enter the U.S. market than with these two historic partners. This partnership underscores our excitement and belief in the power of sports bringing communities together."
The company already has a NASCAR presence as the entitlement sponsor of the NASCAR Pinty's Series, a national series in Canada.
About Bristol Motor Speedway
Forged amid the scenic mountains of Northeast Tennessee near the Virginia state line, Bristol Motor Speedway is The Last Great Colosseum, a versatile multi-use venue that hosts major auto races, football games, concerts and many other captivating events. The facility features a 0.533-mile concrete oval race track with 28-degree corner banking and 650-feet straightaways that offers racing in several NASCAR touring series, highlighted by two major Monster Energy NASCAR Cup Series weekends. While at the track, fans are offered a unique viewing experience courtesy of Colossus, the world's largest outdoor center-hung four-sided video screen with a 540,000-watt audio system. The adjacent quarter-mile dragstrip, Bristol Dragway, offers more than 70 events annually, including the marquee NHRA Thunder Valley Nationals. Three football games have kicked-off inside the oval, most notably the 2016 Pilot Flying J Battle at Bristol, where border rivals the University of Tennessee and Virginia Tech met before an NCAA-record crowd of 156,990. In existence since 1961, Bristol Motor Speedway was purchased in 1996 by Speedway Motorsports, Inc., a publicly traded company that is a leading marketer and promoter of motorsports entertainment in the United States. For more information, please visit www.bristolmotorspeedway.com.
About Pinty's
Established in 1943, Pinty's Delicious Foods™ has long been recognized as a food industry builder, innovator, and leader. The company provides a complete range of premium quality, easy to use chicken products to the Grocery and Restaurant Industry. Pinty's currently comprises three state-of-the-art, dedicated-manufacturing facilities, Servicing the needs of the North American market place and….Making Great Food Fun! For more information on the company and products go to http://www.pintys.com and follow Pinty's at www.Facebook.com/pintysfoods, on Instagram https://instagram.com/pintysfoods and Twitter @pintysfoods.