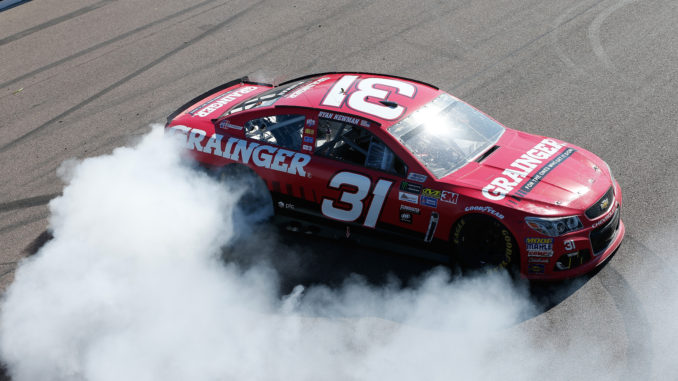 It's not often in NASCAR when one driver is able to break through for a win after not visiting victory lane in a long time. It's even more when two drivers do that on the same weekend.
Since leaving what was then the NASCAR Nationwide Series to take a brief stint in full-time Cup racing at the end of 2013, Justin Allgaier has been in a long slump without winning. In fact, you have to go all the way back to the summer of 2012 at Circuit Gilles Villeneuve in Montreal, a track NASCAR no longer visits, to find Allgaier's last win.
Coming into the weekend at Phoenix, it had been more than 150 starts between the Monster Energy NASCAR Cup Series and the XFINITY Series since he last won, but the Illinois driver finally got back to his winning ways this weekend.
"Last year was tough," Allgaier said in a team release. "We had really good runs all year but we weren't able to get to Victory Lane, but these guys fought hard. This was the same group of guys we had last year, and to be able to do it here in Phoenix and win the first Xfinity Dash 4 Cash race."
Ryan Newman was in almost the same situation. His last win came in the Brickyard 400 driving for Stewart-Haas Racing in 2013 127 races ago. Coming into the weekend, one wouldn't guess Newman would be the driver ending the day celebrating with a trophy, and most people wouldn't have expected that with 10 laps to go in the race either. Newman and crew chief Luke Lambert, however, were able to take advantage of a late race caution to employ an alternate strategy than the leaders and get the win.
"It's sweet for so many reasons," Newman said. "I said that when I won the Brickyard. I said that when I won at Daytona. This has been the longest drought I've ever been in. Even in Phoenix, the runners up suck.
"It's just a hard-fought race, a hard-fought battle, a hard-fought four years. I got to thank Richard and Judy, everybody at RCR, ECR, for not only giving me the opportunity to drive the racecar, but giving me a racecar that's in contention to win a race."
Newman's team, Richard Childress Racing, was also on a long winless streak. The last time RCR won a race in the Cup Series was with Kevin Harvick, coincidentally, at Phoenix in 2013. Since Harvick's departure, the team has come close to returning to victory lane on several occasions, but Sunday's race was the first win for the team.
"Like Ryan said, it's been a long, hard fight, and a battle all the way," Childress said. "Nobody ever gave up. We never gave up in Ryan. We know that he can do it. Our cars just haven't been quite where we needed to … I was really proud of him. Proud of the whole team, Luke, Caterpillar, Grainger, all of the people that believed in us, stuck with us, and our fans."