Larson holds off Logano for NASCAR XFINITY win at Auto Club Speedway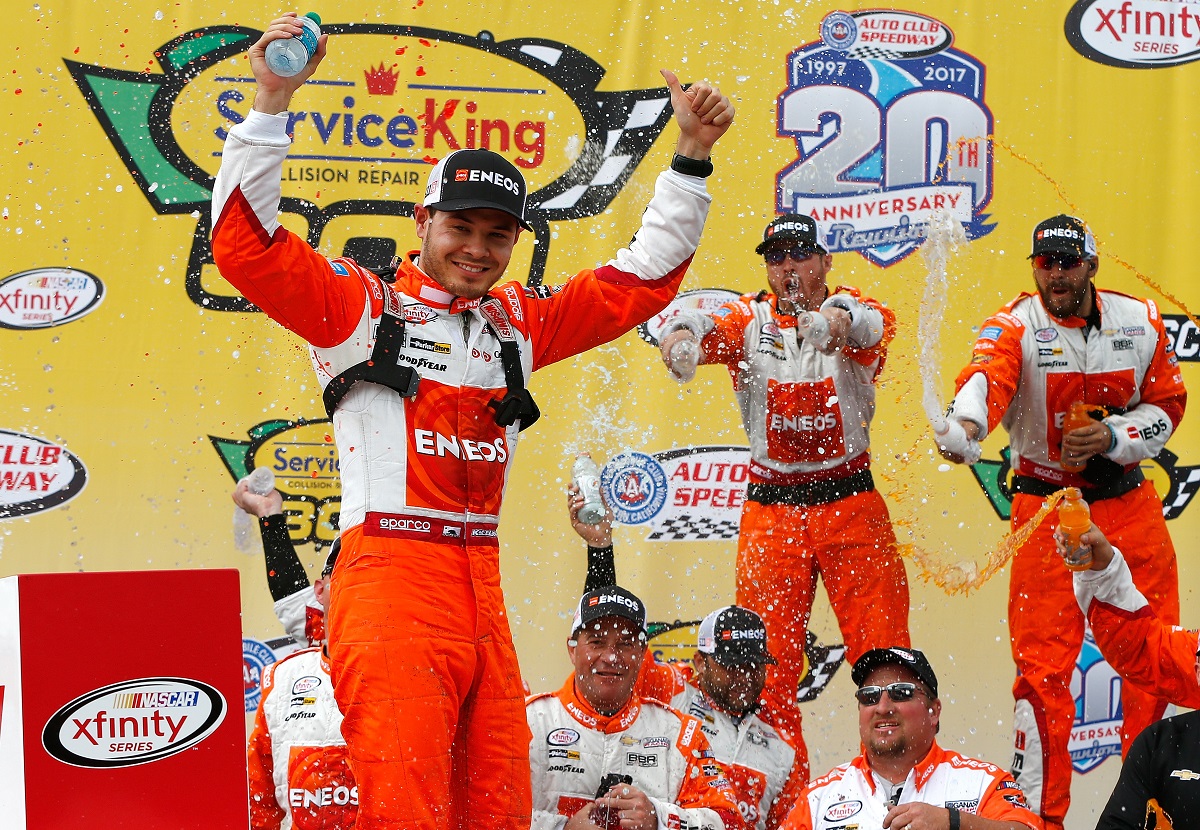 By Reid Spencer
NASCAR Wire Service
FONTANA, Calif. – Kyle Larson kept polesitter Joey Logano at bay after a restart with four laps left in Saturday's Service King 300 NASCAR XFINITY Series race at Auto Club Speedway and held on to win by .127 seconds.
Larson and Logano had swapped the lead on three successive laps before Brandon Jones plowed into the outside wall on Lap 142 to bring out the seventh and final caution of the afternoon.
The lead cars pitted for fresh tires under the yellow, with Larson exiting pit road first and Spencer Gallagher grabbing the second spot with a two-tire stop. That proved Logano's undoing, as his No. 22 Team Penske Ford was pinned behind Gallagher's GMS Racing Chevrolet for the restart on Lap 147 of 150.
Logano chased Larson to the checkered flag but couldn't prevent the driver of the No. 42 Chip Ganassi Racing Chevrolet from scoring his first victory of the season, his second at Fontana and the sixth of his career.
"The racing there at the end with Joey was awesome," said Larson, a California native who got his first NASCAR XFINITY Series victory at the two-mile track. "I had just a couple-lap fresher tires than he did, and I was able to chase him down. That was a lot of fun.
"I wish that last caution wouldn't have come out, because it would have been easier for me to win, I think. But a heck of a race. I honestly didn't think we would be here yesterday. I was struggling bad in practice. Fought the balance a lot throughout the race, too. Finally, the last few runs, we hit on it and it felt good for the short run and throughout the long run. So I can't say enough about everyone on our ENEOS Chevy team."
Both the winner and the runner-up had obstacles to overcome. Larson recovered from a pit road speeding penalty to win the race. Logano sped on pit road and subsequently fell to the back of the field when the jack on the left side of his Ford dropped prematurely during an extended stay on pit road.
But Logano was in prime position at the end, though he acknowledged that Gallagher's two-tire call deprived him of the chance to overtake Larson.
"What's his number?  23?" Logano asked. "Yeah, I don't know about that move. That wasn't a good move. I don't know what they were thinking, but that maybe wasn't the best play at this race track. I knew he was going to spin them (his tires). There's no way he couldn't. It wasn't his fault. 
"He was a sitting duck and I was a sitting duck behind him that lost too much track position on that restart being too far behind Kyle. If not for that, we would have probably been door-to-door across the line bumping and banging or something. We were able to catch Larson the last few laps. We were definitely faster, but I needed another lap, maybe two."
Kyle Busch finished third after scraping the wall on Lap 122 while in pursuit of Logano, who was leading at the time. Erik Jones ran fourth and Sunoco rookie William Byron fifth as the highest-finishing series regular.
The action-filled race wasn't without a number of hard crashes. Paul Menard's Chevrolet nosed hard into the outside wall after contact from Jones. Cole Custer clobbered the Turn 1 wall with an assist from Ryan Sieg—and was upset when he exited the car.
"I just got hooked going into the corner," Custer said. "I think I hit him (Sieg) a tick just on my side-draft going off of (Turn) 4, and then he decided just to hook us going into Turn 1 and wreck us. 
"I thought we could have competed for a win there. We had a bad pit stop. We were going to work our way back up there, but just got our day ended by a clown move."
Notes: Byron is second in the series standings, 17 points behind seventh-place finisher Elliott Sadler… Darrell Wallace Jr. finished sixth for the fourth-straight race… Busch won both the first and second stages of the race, earning a total of two playoff points toward the owner's championship.
NASCAR XFINITY Series Race – Service King 300
Auto Club Speedway
Fontana, California
Saturday, March 25, 2017
               1. (7) Kyle Larson(i), Chevrolet, 150.
               2. (1) Joey Logano(i), Ford, 150.
               3. (16) Kyle Busch(i), Toyota, 150.
               4. (3) Erik Jones(i), Toyota, 150.
               5. (6) William Byron #, Chevrolet, 150.
               6. (10) Darrell Wallace Jr., Ford, 150.
               7. (14) Elliott Sadler, Chevrolet, 150.
               8. (13) Brennan Poole, Chevrolet, 150.
               9. (20) Justin Allgaier, Chevrolet, 150.
               10. (9) Ty Dillon(i), Chevrolet, 150.
               11. (2) Daniel Hemric #, Chevrolet, 150.
               12. (11) Blake Koch, Chevrolet, 150.
               13. (17) Michael Annett, Chevrolet, 150.
               14. (19) Casey Mears, Ford, 150.
               15. (15) Ryan Reed, Ford, 150.
               16. (23) JJ Yeley, Toyota, 150.
               17. (22) Matt Tifft #, Toyota, 150.
               18. (26) Corey LaJoie(i), Toyota, 150.
               19. (18) Spencer Gallagher #, Chevrolet, 150.
               20. (21) Dakoda Armstrong, Toyota, 150.
               21. (25) Ryan Sieg, Chevrolet, 150.
               22. (28) Jeremy Clements, Chevrolet, 150.
               23. (27) BJ McLeod, Chevrolet, 150.
               24. (33) David Starr, Chevrolet, 150.
               25. (34) Martin Roy, Chevrolet, 150.
               26. (30) Garrett Smithley, Chevrolet, 150.
               27. (31) Ray Black Jr., Chevrolet, 150.
               28. (37) Joey Gase, Chevrolet, 150.
               29. (32) Jeff Green, Chevrolet, 150.
               30. (36) Timmy Hill, Chevrolet, 150.
               31. (29) Harrison Rhodes, Chevrolet, 150.
               32. (8) Brandon Jones, Chevrolet, 149.
               33. (12) Brendan Gaughan, Chevrolet, 148.
               34. (40) Mike Harmon, Dodge, 146.
               35. (4) Cole Custer #, Ford, Accident, 106.
               36. (5) Paul Menard(i), Chevrolet, Accident, 94.
               37. (24) Ross Chastain, Chevrolet, Accident, 81.
               38. (39) Brandon Hightower, Dodge, Transmission, 72.
               39. (38) Stephen Leicht, Chevrolet, Vibration, 12.
               40. (35) Jordan Anderson(i), Chevrolet, Electrical, 3.
Average Speed of Race Winner:  116.883 mph.
Time of Race:  02 Hrs, 34 Mins, 00 Secs. Margin of Victory:  0.127 Seconds.
Caution Flags:  7 for 43 laps.
Lead Changes:  18 among 6 drivers.
Lap Leaders:   J. Logano(i) 1-31; J. Clements 32-33; K. Busch(i) 34-41; K. Larson(i) 42-48; K. Busch(i) 49-72; J. Logano(i) 73; K. Busch(i) 74-77; J. Logano(i) 78-87; K. Busch(i) 88-90; J. Logano(i) 91-96; R. Black Jr. 97; K. Busch(i) 98-103; W. Byron # 104; K. Larson(i) 105-107; K. Busch(i) 108-117; J. Logano(i) 118-138; K. Larson(i) 139-142; J. Logano(i) 143; K. Larson(i) 144-150.
Leaders Summary (Driver, Times Lead, Laps Led):  J. Logano(i) 6 times for 70 laps; K. Busch(i) 6 times for 55 laps; K. Larson(i) 4 times for 21 laps; J. Clements 1 time for 2 laps; W. Byron # 1 time for 1 lap; R. Black Jr. 1 time for 1 lap.
Stage #1 Top Ten: 18,1,42,20,9,3,48,00,2,21
Stage #2 Top Ten: 18,22,20,42,1,3,2,00,48,9