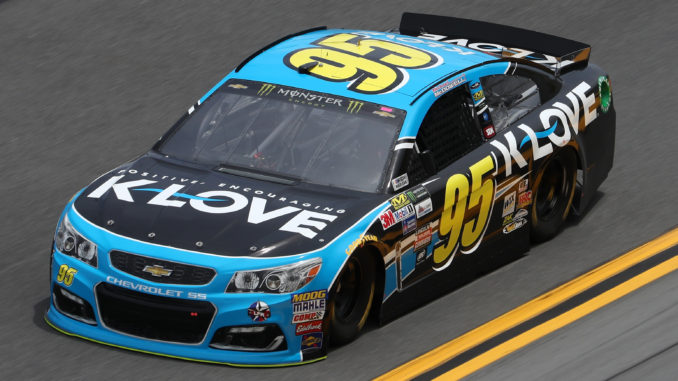 CONCORD, N.C. (April 6, 2017) – Michael McDowell and Leavine Family Racing (LFR) are thrilled to return to the LFR team owners' home track of Texas Motor Speedway.
After an adversity-filled STP 500 at Martinsville Speedway, LFR is looking forward to bouncing back at Texas, where many friends and family members will gather to watch the O'Reilly Auto Parts 500.
McDowell and LFR started the STP 500 out strong but fell a few laps behind after McDowell received a speeding penalty on pit road. The team was unfortunately unable to get back on the lead lap and finished 26th.
Team owner, Bob Leavine, is looking forward to moving on to his home track of Texas Motor Speedway.
"Going to Texas is always more pressure," said Leavine. "We always have more friends, family and even more WRL clients. We haven't had the most stellar performances at Texas, but we will put our best foot forward. We should have a good car, but the big question will be the freshly paved surface. Everyone will be on the same page, so that makes it kind of exciting. We are ready for it."
Although Texas just underwent a repave, McDowell looks forward to an exciting weekend at the 1.5-mile track. In the fall of the 2016 Monster Energy NASCAR Cup Series (MENCS) season, McDowell earned a 23rd place finish, his best at Texas Motor Speedway.
"Texas is unknown," said McDowell. "It's all brand new for everybody since the repave. It looks like its 100 feet wide, and there are so many unknowns. I think this weekend is going to be a challenge, yet exciting for everyone. We will just unload and figure out what we have and what we need to do to be able to race on the new surface.
Obviously for LFR, it's a hometown race. Our owners, Bob and Sharon, have a ton of friends and family coming out, and a lot of people from WRL will be there as well. It's a big weekend for us, so hopefully we can run well."
The O'Reilly Auto Parts 500 will take place on Sunday, April 9, 2017 at 1:30PM ET. Race fans can tune-in to FOX for live coverage and follow @LFR95 on Twitter for race weekend updates.
About Leavine Family Racing
Leavine Family Racing is an organization competing in the NASCAR Premier Series focused on growing competitively and providing results-driven partnerships for its sponsors. The single-car team was founded in 2011 by Bob and Sharon Leavine, two individuals who are passionate about NASCAR and started the team to make a positive impact on the sport and community. Michael McDowell, a nine-year veteran of NASCAR and winner of the Road America 180 in the NASCAR XFINITY Series, pilots the No. 95 Chevrolet SS for the team. In 2016 alone, McDowell and LFR earned two Top-10 finishes and nine Top-20 finishes together. In alliance with Richard Childress Racing, the team operates out of their Concord, N.C.-based race shop with a veteran group of racing personnel and is driven by several key principals including intensity, attention to detail, focus and a sense of urgency.  For more information, please visit www.LFR95.com.