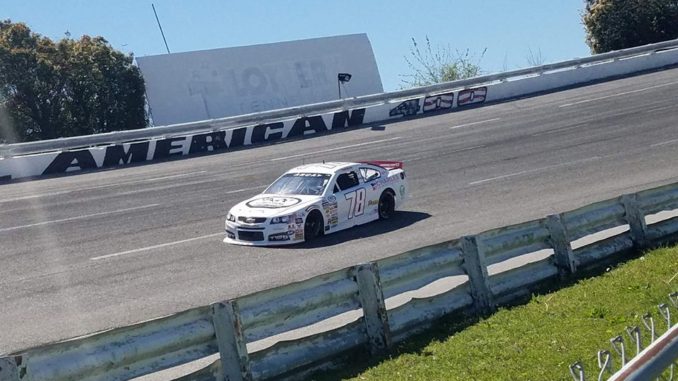 Mason Mitchell Motorsports driver Kyle Weatherman had the fastest lap with a speed of 110.735 mph in the first and only practice for tonight's Music City 200 from the Fairgrounds Speedway in Nashville Tennessee.
In a rather uneventful practice, Kyle Weatherman was fastest of the 33 cars who made a lap.
Daytona winner Austin Theriault had the second fastest lap of the afternoon while Venturini Motorsports driver Christian Eckes was third. Leading the charge for Cunningham Motorsports was Shane Lee, driver of the No. 22 Big Tine Ford Fusion, turning a lap that put him fourth on the practice charts, while teammate Dalton Sargeant was eighth.. Bret Holmes rounded out the top-five.
While Eckes was quickest of the Venturini Motorsports car, his two teammates joined him in the top-10. Raphael Lessard, who is making his ARCA Racing Series debut tonight was seventh in practice while Zane Smith placed his No. 55 Toyota in the ninth position.
Vinnie Miller, representing MDM Racing, placed his No. 8 Toyota in the sixth place. Chad Finley in the No. 51 Auto Value Chevrolet rounded out the Top-10.
Qualifying begins at 4:15 pm/CT. Stay tuned to @KoelleChristian on Twitter for the most recent updates as the night progresses.
Practice Results 
Kyle Weatherman
Austin Theriault
Christian Eckes
Shane Lee
Bret Holmes
Vinnie Miller
Raphael Lessard
Dalton Sargeant
Zane Smith
Chad Finley
Gus Dean
Michael Lira
Riley Herbst
Mason Mingus
Sheldon Creed
Thad Moffitt
Tony Mrakovich
A.J. Fike
Brian Finney
Thomas Praytor
Nick Higdon
Cody Lane
Bobby Gerhart
Scott Reeves
Rick Clifton
Willie Mullins
Eric Caudell
Mike Senica
Chris Reese
Brad Smith
Con Nicolopoulos
Mark Blasingim
Dale Shearer