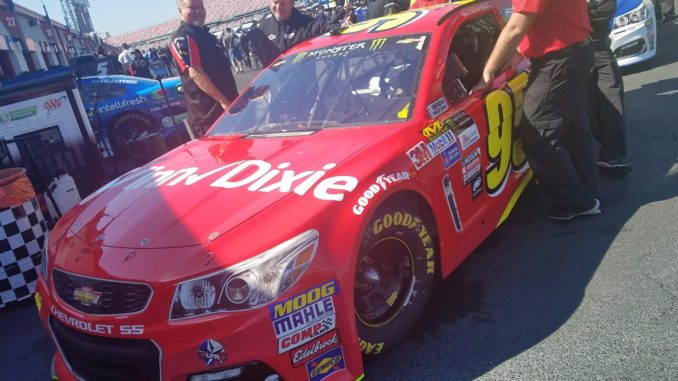 Michael McDowell has became one of the stand out restrictor plate racers the last few seasons and this weekend shouldn't be any different. McDowell has had a consistent weekend so far and with a new sponsor on board of the No. 95 this weekend, spirits have to be high.
It will be McDowell's 13th career MENCS start at Talladega. His best finish came last October where he finished 16th but since he joined Leavine Family Racing back during the 2014 season he's always been up front, just ended up in the wrong place at the wrong time. In this race in 2014, McDowell was involved in a crash in turns three and four that he couldn't avoid. McDowell DNQ'ed the 2015 GEICO 500, and last season he was one of the few drivers left toward the end but would be involved in the late race crash with Matt Kenseth and Danica Patrick. The finishing position hasn't been a sign of his successful runs at Talladega.
McDowell will start 25th in Sunday's GEICO 500 at the Talladega Superspeedway which is one of his better starts in NASCAR's rapid fire qualifying, which is basically single car qualifying which in some aspects puts the smaller teams at a disadvantage. McDowell was 18th yesterday in the sole practice for the MENCS which shows McDowell will work well in the pack as he did at during the past two visits to Daytona.
McDowell is chasing something a little more tomorrow than he has been in the past. He's running a full schedule which means if he sends the No. 95 Winn-Dixie Chevrolet SS to victory lane and can stay in the Top-30 in points, McDowell locks himself in the playoffs at the end of the season. As noted above a new sponsor adorns the No. 95 this weekend in the form of Winn-Dixie.
"Superspeedways are always good opportunities for us to be up front and maybe even sneak a win in," said McDowell. "You never know. Daytona seems to go better for us than Talladega but a lot of that is finishing and not having any damage. It seems like the races at Talladega get a little wild for us, but superspeedways have been a strong suit for this LFR team. We got a pretty good start at Daytona. I feel like we could go to Talladega and have a shot to get in the playoffs."