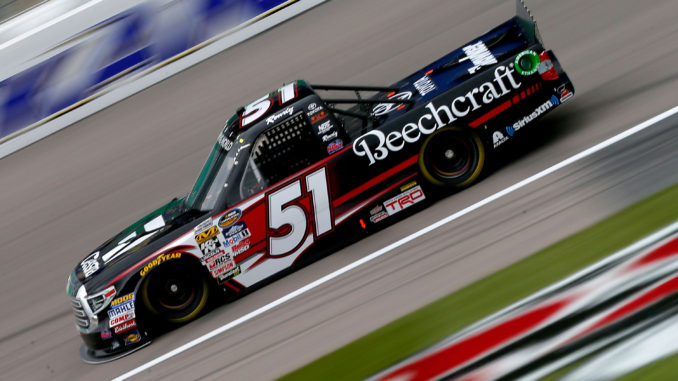 After nearly a month and a half of no on-track action, the NASCAR Camping World Truck Series is back to kick things into high gear. The drivers will take on Kansas Speedway, a 1.5-mile track, for their first race since April.
So far this year, it's been a battle between GMS Racing and Kyle Busch Motorsports for the top team in the series, and that likely will be the same story this weekend. After three races this year, GMS has won on two occasions with Kaz Grala at Daytona and Chase Elliott at Martinsville. KBM scored its win at Atlanta with Christopher Bell at the helm.
While GMS seems to hold the top spot right now, KBM has brought out the big guns this weekend with team owner Kyle Busch hopping behind the wheel of the No. 51 Cessna Toyota for his first race of the season. Busch, however, has struggled at Kansas in the past, particularly in the Monster Energy NASCAR Cup Series. He is a past winner at Kansas in the Truck Series in 2014, and has won the last three XFINITY Series races at the track. Busch hasn't shown a lot of speed during practice so far, but expect him to pick up the pace come race time on Friday night.
If Busch isn't the driver to get it done for KBM this weekend, it wouldn't be a total shock if Bell picks up his second victory of the year. He won on the other 1.5-mile race earlier in the season at Atlanta, and was quickest in final practice. In last year's race, he finished inside the top-five, so the Oklahoma driver does have experience running up front at Kansas.
Much like Kyle Busch Motorsports, GMS Racing has shown speed in the Midwest. 18-year-old Justin Haley, who had to miss the first two races at Daytona and Atlanta because he was only 17, was fastest during first practice. He didn't show the same speed in final practice, but if he can find the pace again, he could be one to watch in his first race on a 1.5-mile track. When talking about possible winners out of the GMS stable, you can't ignore defending series champion Johnny Sauter. Sauter's a past winner at Kansas, and knows how to get it done around Kansas.
Of course, GMS Racing and Kyle Busch Motorsports aren't the only teams fielding trucks this weekend. One team that could easily steal their first win of the year is ThorSport Racing. ThorSport won with the aforementioned Sauter at Kansas in 2010, and won twice with Matt Crafton behind the wheel. Crafton always shows good speed at this type of the track, so he could wind up in victory lane.
If you're looking for a dark horse pick, you can stick with ThorSport and their driver Ben Rhodes. Rhodes, a rookie in 2016, came within one lap of winning this race last year until he made contact with another truck while battling for the lead. He was fifth in practice, and while Rhodes may not be the number one pick, he'll certainly be duking it out up front.