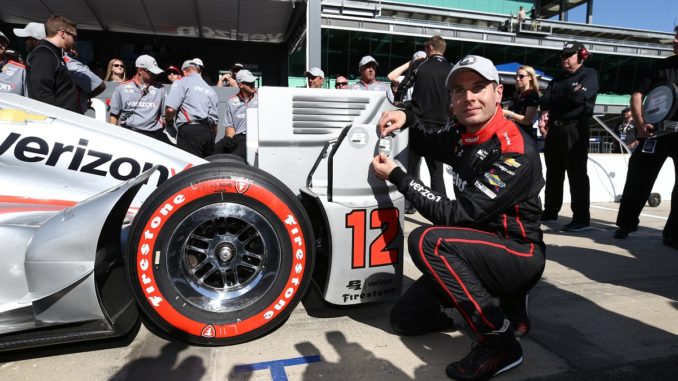 INDIANAPOLIS, Indiana (Friday, May 12, 2017) – Team Penske reached a milestone at the INDYCAR Grand Prix today, earning its 250th pole position in Indy car history as well as extending its Verizon P1 Award domination on the Indianapolis Motor Speedway road course and for the 2017 Verizon IndyCar Series season.
Will Power, driving the No. 12 Verizon Team Penske Chevrolet, broke his own track record with a lap of 1 minute, 7.7044 seconds (129.687 mph) in the Firestone Fast Six, the last of three knockout qualifying rounds to determine the Verizon P1 Award winner. It gave Team Penske its third straight pole position on the 2.439-mile, 14-turn circuit and made the team 5-for-5 in pole qualifying at all tracks this season.
"In the Fast Six, the car had a fantastic balance and did a really neat lap," said Power, who collected his third Verizon P1 Award this season. "I was actually up on the second set and then got too greedy at the end. But yeah, really cool to start at the front again."
INDYCAR Grand Prix: Qualifying results
Power headed a Team Penske logjam at the front of the grid. Teammate Helio Castroneves qualified second in the No. 3 Verizon Team Penske Chevrolet, Josef Newgarden was third in the No. 2 hum by Verizon Team Penske Chevy and Juan Pablo Montoya fifth in the No. 22 Fitzgerald Glider Kits Team Penske Chevy. Defending INDYCAR Grand Prix and Verizon IndyCar Series champion Simon Pagenaud brought up the rear of the Team Penske contingent, qualifying seventh in the No. 1 Menards Chevrolet.
Newgarden was the first to break Power's 2016 track record of 1:08.6746 in the first round of qualifying. Power re-established himself as the record holder in the second round, with the first official lap of less than 1:08 on the circuit, then bettered it in the Firestone Fast Six to earn the 47th pole of his 13-year Indy car career – the fifth most all time.
"Really determined to have a good race," said Power, the 2015 INDYCAR Grand Prix winner whose only top-10 finish thus far in 2017 was two weeks ago at Phoenix Raceway. "I've been knocking on the door every week, and one is going to go our way here soon. You put yourself in that position, it'll happen. That's the plan."
Power and Castroneves have alternated winning the pole at the first five races this season. The Brazilian, who turned 42 on Wednesday, was relegated to starting second in Saturday's fourth annual INDYCAR Grand Prix but will be on the front row for the fourth straight race in 2017.
"There is nobody in front of me, that's great," Castroneves said, "so we're looking forward to a good start. Excited for tomorrow. Hopefully we have a good, clean start and see what happens in the race."
Scott Dixon qualified fourth in the No. 9 NTT Data Honda. The Chip Ganassi Racing driver has reached the Firestone Fast Six at all four road/street events this season. Sebastien Bourdais, the four-time Indy car champion and winner of the season opener at St. Petersburg in March, qualified a season-best sixth in the No. 18 Sonny's BBQ Honda for Dale Coyne Racing.
Pagenaud, who won the most recent Verizon IndyCar Series race April 29 at Phoenix Raceway, leads the championship by 18 points over Dixon heading into Saturday's 85-lap INDYCAR Grand Prix (3:30 p.m. ET, ABC and the Advance Auto Parts INDYCAR Radio Network).
United Rentals doubles Turns for Troops donation in May
When United Rentals signed on as a Rahal Letterman Lanigan Racing sponsor last season, it launched its Turns for Troops initiative to donate $50 for each lap driver Graham Rahal completed in the season toward the SoldierStrong program that funds access to education, state-of-the-art rehabilitation programs and technologies that address a variety of combat-related injuries for military veterans. More than $102,000 was raised in 2016.
At a news conference today at Indianapolis Motor Speedway, United Rentals announced it is doubling the donation for the two May races at IMS – Saturday's INDYCAR Grand Prix and the 101st Running of the Indianapolis 500 presented by PennGrade Motor Oil on May 28. If Rahal completes every lap in his No. 15 SoldierStrong / TurnsForTroops.com Honda in the two races, it will add another $28,500 to the coffer.
Rahal was joined in announcing the effort by: team co-owners Bobby Rahal and David Letterman; Chris Hummel, chief marketing officer of United Rentals; and SoldierStrong founder Chris Meek.
"This is our 20th anniversary this year in 2017," Hummel said. "We're all about service, it's who we are, so we decided that we want to introduce 20 moments of service to kind of commemorate our 20th anniversary.
"We're kicking that off here this weekend, where we've taken our sponsorship spot on Graham's car, No. 15, and actually gifted it over to the Turns for Troops program. So rather than highlighting just United Rentals, to use the car, use the weekend, use the activities to actually highlight the Turns for Troops program. We think it's a fantastic program. We're very happy to see it pushing forward this weekend."
SoldierStrong helps fund the production of exoskeletons to help veterans paralyzed or with spinal cord injuries walk again.
"We have to date funded 13 of these devices," Meek said. "Each device costs nearly $200,000 and we've expanded the program from just the exoskeleton device to include other life-transformational, cutting edge medical devices, specifically prosthetic arms and legs."
Graham Rahal has long been a proponent of causes to assist the military. He remains awed by United Rentals' devotion to the Turns for Troops initiative.
"I think their commitment to the program for Turns for Troops and SoldierStrong is shown this weekend and through the 500 where they've doubled the donation that they are going to make, let alone passing up on the (car sponsorship) opportunity," he said. "The (United Rentals) brand is still on the car, but not in a big way and it really showcases what we're trying to do here. Thanks to United Rentals for that."
Team co-owner Letterman, the retired late-night talk-show host, was just pleased to be part of the project.
"I have a feeling that the technology of (the exoskeletons) as it's replicated again and again will get better and better and better, easier to use and less expensive," Letterman said. "But for the time being, to be in on the ground floor of something that will benefit these men and women whose lives are for all practical purposes changed dramatically, if not ruined … I can't begin to tell you the pride that I feel that transcends motor racing."
Mazda Road to Indy results
All three levels of the Mazda Road to Indy presented by Cooper Tires conducted the first of two weekend races today on the IMS road course. Nico Jamin (Andretti Autosport) won the Indy Lights presented by Cooper Tires race by 0.8405 of a second over Zachary Claman De Melo (Carlin). In the Pro Mazda Championship presented by Cooper Tires, Victor Franzoni (Juncos Racing) won by 0.2092 of a second over TJ Fischer (Team Pelfrey). In the Cooper Tires USF2000 Championship powered by Mazda, Oliver Askew (Cape Motorsports) drove to his fourth win of the season, by 3.3461 seconds over Kaylen Frederick (Team Pelfrey).