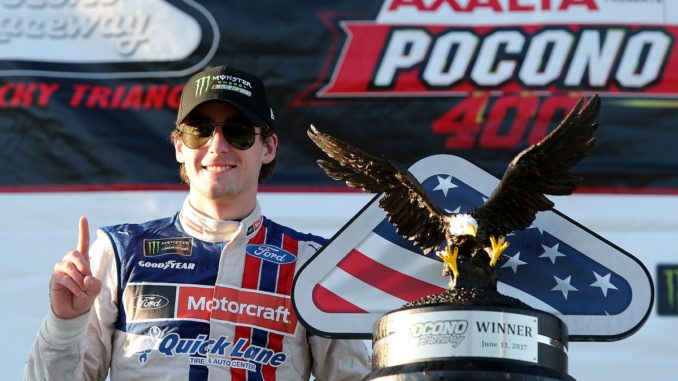 By Reid Spencer, NASCAR Wire Service
LONG POND, Pa. – Dogged by Kevin Harvick for the final eight laps of Sunday's Axalta presents the Pocono 400, Ryan Blaney held off the 2014 series champion in a breathtaking battle to claim the first Monster Energy NASCAR Cup Series victory of his career.
After a restart on Lap 148 of 160, Blaney grabbed the lead from polesitter Kyle Busch on Lap 151, with Busch on older tires, doing everything he could to block Blaney's No. 21 Wood Brothers Racing Ford. Racing side by side with Busch's No. 18 Toyota down the Long Pond straightaway, Blaney stayed in the gas through the Tunnel Turn and cleared Busch's Camry off the corner.
A lap later, Harvick passed Busch and closed within a car-length of Blaney, who drove flawlessly for the final eight laps to keep Harvick at bay. Blaney crossed the finish line .139 seconds ahead of Harvick to become the 19th different driver to win for the Wood Brothers and the first since Trevor Bayne took the checkered flag in the 2011 Daytona 500. Blaney, 23, is also the youngest first-time winner since Bayne, who was 20 years old when he took the checkered flag for the Wood Brothers at Daytona.
When Blaney climbed from his car in Victory Lane, the magnitude of what he had just accomplished still hadn't registered.
"I think it exceeds the dream a little bit," Blaney said. "I grew up watching my dad (Dave Blaney) race on this race track, and it's so cool to get the Wood Brothers in Victory Lane, number one, and to do it here at a race track that is really close to Ohio – a home to me – is pretty awesome."
First, however, Blaney had to get past Busch after the final restart, no easy task, even though Busch had stayed out on older tires during the fourth and final caution, called for Kasey Kahne's brake failure and crash into the Turn 1 wall.
"Kyle stayed out and he was on a little bit older tires, and it looked like he was getting pretty tight, especially off of (Turn) 1, and that's where new tires really seemed to come alive, because you could hold the line and get runs on him, downshift and get next to him.
"I had a big run on him off of (Turn) 3, and he did a good job blocking, and we were able to get under him, but then I had to hold the 4 (Harvick) off. He was super-fast. I can't thank Kevin enough for racing me clean. That was really cool of him, but it was definitely hectic. Hopefully, the fans liked it. It was really cool."
Harvick, whose engine survived a missed shift at the end of Stage 2, was waiting for Blaney to make a mistake over the final eight laps, but the mistake never came. And Harvick's brakes weren't stout enough to allow him to charge the corners as effectively as Blaney could.
"We never could stop like we needed to all weekend, so you just had to be really careful with the brakes," Harvick said. "If I'd over drive it for a lap or two the pedal would start going down, and then I was really at a deficit. So I had to be very aware of where I let off every lap.
"The 21 (Blaney) could charge the corner a little bit harder than I could, and my best bet, the way I passed people all day was waiting for him to slip up off the bottom, and he never slipped up off the bottom. So I just didn't have enough laps to finish that last pass off, and Ryan did a good job of not slipping a wheel with the amount of laps that he had left and was able to hold on."
Sunoco Rookie of the Year contender Erik Jones finished a career-best third in the No. 77 Furniture Row Racing Toyota. Kurt Busch ran fourth, followed by Brad Keselowski, who started on the front row beside Kyle Busch on the final restart but lost positions through the first corner.
Martin Truex Jr. came home sixth and retained the series lead by one point over seventh-place Kyle Larson, who won the second stage. Chase Elliott was eighth, and Kyle Busch slipped to ninth, despite winning the first stage and leading 100 of the 160 laps.
Driving the No. 43 Richard Petty Motorsports Ford in his Monster Energy NASCAR Cup Series debut, Darrell "Bubba" Wallace Jr. finished 26th, hampered by three pit road speeding penalties, two of which came on consecutive trips to pit road early in the race.
Results
Monster Energy NASCAR Cup Series Race – Axalta presents the Pocono 400
Pocono Raceway
Long Pond, Pennsylvania
Sunday, June 11, 2017
(4) Ryan Blaney, Ford, 160.
(12) Kevin Harvick, Ford, 160.
(15) Erik Jones #, Toyota, 160.
(5) Kurt Busch, Ford, 160.
(6) Brad Keselowski, Ford, 160.
(2) Martin Truex Jr., Toyota, 160.
(7) Kyle Larson, Chevrolet, 160.
(25) Chase Elliott, Chevrolet, 160.
(1) Kyle Busch, Toyota, 160.
(3) Matt Kenseth, Toyota, 160.
(23) Ricky Stenhouse Jr., Ford, 160.
(18) Denny Hamlin, Toyota, 160.
(17) Austin Dillon, Chevrolet, 160.
(10) Ryan Newman, Chevrolet, 160.
(14) Daniel Suarez #, Toyota, 160.
(24) Danica Patrick, Ford, 160.
(20) Clint Bowyer, Ford, 160.
(27) Ty Dillon #, Chevrolet, 160.
(29) Chris Buescher, Chevrolet, 160.
(13) Paul Menard, Chevrolet, 160.
(22) Trevor Bayne, Ford, 160.
(21) AJ Allmendinger, Chevrolet, 160.
(9) Joey Logano, Ford, 160.
(11) Michael McDowell, Chevrolet, 160.
(31) David Ragan, Ford, 159.
(16) Darrell Wallace Jr.(i), Ford, 159.
(34) Landon Cassill, Ford, 158.
(35) * Corey LaJoie #, Toyota, 157.
(33) Gray Gaulding #, Toyota, 156.
(32) Cole Whitt, Chevrolet, Engine, 155.
(36) Reed Sorenson, Toyota, 154.
(30) Matt DiBenedetto, Ford, Drive Shaft, 153.
(39) * Derrike Cope, Chevrolet, 153.
(37) Jeffrey Earnhardt, Chevrolet, Brakes, 146.
(26) Kasey Kahne, Chevrolet, Accident, 140.
(19) Jimmie Johnson, Chevrolet, Accident, 95.
(8) Jamie McMurray, Chevrolet, Accident, 95.
(28) Dale Earnhardt Jr., Chevrolet, Engine, 58.
(38) * Cody Ware, Chevrolet, Vibration, 35.
Average Speed of Race Winner:  142.292 mph.
Time of Race:  02 Hrs, 48 Mins, 40 Secs. Margin of Victory:  0.139 Seconds.
Caution Flags:  4 for 18 laps.
Lead Changes:  13 among 9 drivers.
Lap Leaders:   Kyle Busch 1-17; E. Jones # 18-34; Kyle Busch 35-53; R. Stenhouse Jr. 54-56; E. Jones # 57-59; Kyle Busch 60-90; D. Hamlin 91; D. Suarez # 92; K. Larson 93-101; Kyle Busch 102-124; M. Truex Jr. 125-129; B. Keselowski 130-140; Kyle Busch 141-150; R. Blaney 151-160.
Leaders Summary (Driver, Times Lead, Laps Led):  Kyle Busch 5 times for 100 laps; E. Jones # 2 times for 20 laps; B. Keselowski 1 time for 11 laps; R. Blaney 1 time for 10 laps; K. Larson 1 time for 9 laps; M. Truex Jr. 1 time for 5 laps; R. Stenhouse Jr. 1 time for 3 laps; D. Hamlin 1 time for 1 lap; D. Suarez # 1 time for 1 lap.
Stage #1 Top Ten: 18,4,2,42,48,24,41,20,1,3
Stage #2 Top Ten: 42,18,78,4,24,77,2,41,5,20