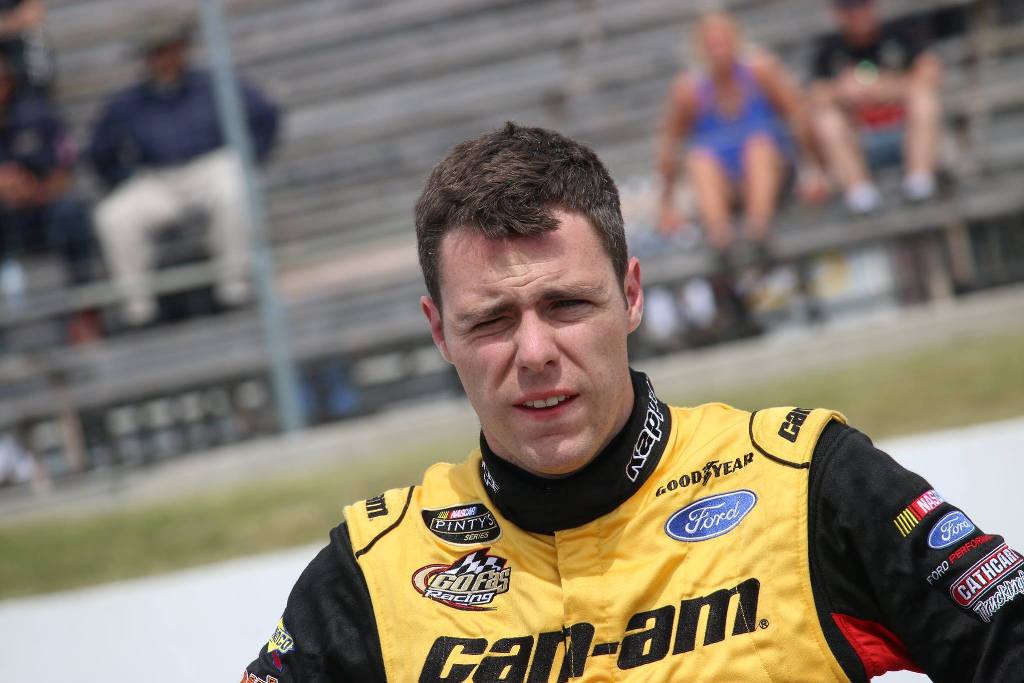 Following a rainout last weekend in Quebec that resulted in the CRS Express 300 being delayed, the NASCAR Pinty's Series is back on track this weekend with the drivers attempting to tackle the quarter-mile oval in Chaudiere.
Last year's race at Autodrome Chaudiere was won in a thrilling battle between hometown driver Alex Labbe beating out eventual series champion Cayden Lapcevich in a near 20-lap duel that saw the two trade the lead back and forth, whilst racing clean. It was Labbe's first series win.
This year, Labbe comes back to the site of his first win just three weeks after scoring the win at Delaware Speedway. To say he has an edge on the competition with that momentum would be an understatement. Labbe feels comfortable behind the wheel at Chaudiere, and that makes him a favourite for the win.
Lapcevich isn't far down the list of favourites to win on Saturday, though. He was only beat by three tenths of a second in last year's race, and a more prepared and experienced team should be a big help come race time this week. In the series' last race at Delaware, Lapcevich finished outside the top-10 following crash damage for the first time since 2015. He's proven he knows how to run up front, so he will probably be there when all is said and done.
Mark Dilley is a favourite whenever the Pinty's Series comes to an oval, and this race is no different. Dilley has two top-five finishes in his three starts at Chaudiere, including in 2014 where he finished second. He finished fifth in last year's running of the race. If one thing will hold Dilley back this weekend, it's the fact that his last series win was in 2011. He'll be making his 100th series start this weekend, so what better motivation could there be than winning in a milestone start, and snapping a long winless streak?
Current points leader Kevin Lacroix comes to Autodrome Chaudiere trying to maintain a small gap over Labbe. Lacroix currently leads by just four points. Lacroix, a road course specialist, has five wins in the series, including at Canadian Tire Motorsport Park to open the season. None of Lacroix's wins, however, have come on ovals. He's come close on the west coast ovals, but getting the monkey off his back with an oval win this weekend would be a great way to gap the bridge over Labbe.
Joining Labbe and Lacroix atop the points pylon are three more Quebecois drivers. Two-time series champion Andrew Ranger sits third followed by brothers L.P. Dumoulin, the 2014 series champion, and J.F. Dumoulin. While it's unlikely any of the three could take the points lead, a win would open up the points race just a little bit more. For Ranger and the 2014 champion, a win could be well within reach as both run well on the ovals. For J.F. Dumoulin though, a win will be tough to achieve. He only has two top-fives on the ovals, and tends to perform better on road and street courses. He has been a model of consistency this year, though, finishing seventh in both races.
While they may not have had an ideal opening to the season, Alex Tagliani and D.J. Kennington will be two drivers to watch out for on Saturday. Tagliani, who was mostly known as a road racer in open-wheel cars, has performed exceptionally well on the ovals, particularly Sunset Speedway, the past two years. Kennington, who is 10th in points, will try to turn his luck around with his first win since 2014. Nearly all of Kennington's 19 wins have come on oval tracks, so this would be the perfect place for him to turn his luck around.
Rounding out the 15-car field includes Quebecois drivers Donald Theetge, who is looking for a rebound after a Lap 1 crash in his season debut at Delaware, and Simon Dion-Viens. Theetge and Dion-Viens are joined by Larry Jackson, Adam Martin, American driver Armani Williams and Anthony Simone.