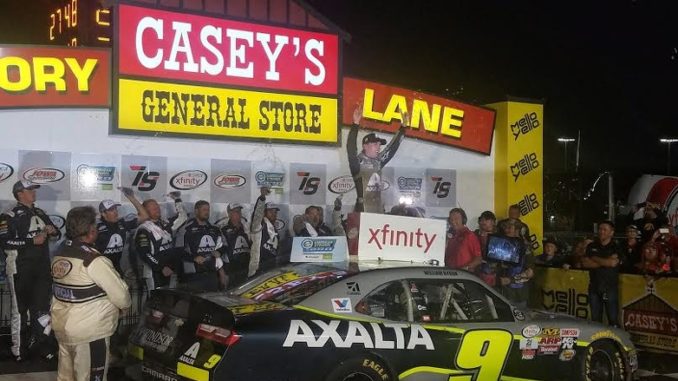 A week after heartbreak, William Byron was able to secure his first career victory at the Iowa Speedway in the American Ethanol E15 250 presented by Enogen. Byron was able to hold off Ryan Sieg after a late race restart that found many of the fastest drivers a lap down after the second to final caution came out at the wrong time for many drivers who came down pit road for green flag pit stops.
Christopher Bell started on the pole leading all 60 laps of Stage 1 securing his first stage win of his career in the XFINITY Series. Dexter Bean spun in turns one and two, bringing the caution out on Lap 25. Some teams debated on pitting for fresh tires or to save them for when the stage ended just 35 laps remaining, in a race where tires proved to be very important. Brendan Gaughan was one of the sole drivers to pit under that caution for adjustments on a very loose race car.
Byron was able to win the race off pit road at the ending of Stage 1, moving from third to second. Byron and Sam Hornish Jr. would lead them to green to start stage two with Byron shooting out to the lead. At Lap 77, Hornish Jr. found himself in the outside wall after possible contact between him and Bell that ended up with the No. 22, a favorite, out of the race. With 27 laps to go in Stage 2, Justin Allgaier took the lead on a restart. As the run went on, Allgaier began to fall back surrendering the lead to teammate Byron, but with 16 laps remaining, Bell was able to retake the lead. Many thought that Bell would go on to win the second stage, but a caution with eight to go after a crash by Kyle Benjamin and Ty Majeski would set up for a shootout to end the stage. While many drivers pitted, Brendan Gaughan along with others stayed out. Gaughan rocketed out to the lead and won his first stage of the season.
Byron would take back the lead as the drivers who stayed out under that last caution would come down pit road. Byron would lead them to green again and would lead until Lap 143 where Bell took back the lead. Caution would come out at Lap 144 as the beaten and battered iRacing machine finally gave way and Majeski went into the wall and he went behind the wall ending his night. With 97 laps to go, Byron and Bell lead them to green where Byron had a terrible restart and Bell took the lead. With 89 laps to go Spencer Gallagher spun at the exit of turn two putting out the caution, Not to far behind Bean rammed the outside wall ending both drivers afternoon.
Bell shot to the lead during that restart and he started clicking laps. Green flag pit stops began with 36 laps to go but then the caution flew when Brennan Poole spun leader Bell into Ryan Reed. This caution would trap many of the faster cars a lap down. Byron found himself leading and running out of fuel but found perfect opportunity with much of the faster cars a lap down.
Byron was able to shoot to the lead and never look back securing his first career victory. Sieg would tie his best career finish of second, with Tyler Reddick finishing third, Ross Chastain fourth, and Dakoda Armstrong fifth. All drivers in the top-5 would either tie or gain their career best finish.