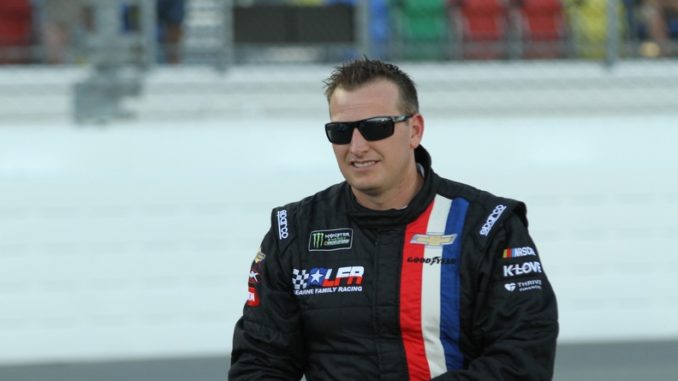 Michael McDowell showed a strong arm last weekend in the Coke Zero 400 at the Daytona International Speedway earning his career best finish.
McDowell was running as high as second during NASCAR Overtime but got passed by Paul Menard and Clint Bowyer on the final lap and had to battle with Ryan Newman for fourth. He ultimately held on to score his first top-10 of 2017
McDowell started 23rd, but fell back a few spots and as the caution came out on Lap 9. Crew Chief Todd Parrott made the decision to bring the No. 95 WRL Contractors Chevrolet SS down pit road for four tires so that under the competition caution they could take fuel only and gain track position. After all of that cycled through, he worked his way into the top-10 using the draft and a car that could push very well. McDowell finished 6th at the conclusion of the first stage earning five bonus points.
McDowell pitted during the break and restarted 11th at the start of Stage 2. During the second stage, McDowell and Daniel Suarez both hit pit road avoiding a big wreck. He drove down pit road, reducing his speed, and then back onto the track. Fortunately, a caution came out on Lap 59 where McDowell pitted to fix damage and the No. 95 was back in the lead pack.
McDowell was able to make it back into the top-10, but after avoiding the "Big One" with less than 10 laps to go in Stage 2, he would just miss earning stage points. McDowell was able to bring the car down pit road and he earned a few spots to begin the final stage.
During the final stage, McDowell was able to avoid a few other big wrecks and lost some of the draft and fell back in the pack. With 50 laps remaining, McDowell pitted for tires and fuel but he had to bring it back down pit road to fix a minor tire rub. That stop would put them right at the window to finish the race on fuel but Parrott told him to save fuel when possible. McDowell avoided multiple incidents before a big caution came out with seven laps to go.
McDowell was set up front during the final two restarts of the race. Under the final restart McDowell restarted fifth and pushed Ricky Stenhouse Jr. to the lead as he moved to second place. McDowell would fall to fourth and would battle with Ryan Newman for fourth. As he crossed the finish line, he'd secure his career best finish.
"It was a great run for us. Really building off the Daytona 500 where we were in the top-five and ran out of gas," McDowell said. "We really had a fast car. The boys did a great job. It wasn't without trouble. We were around a lot of the carnage out there. There was just a lot of hard racing out there tonight. Three-wide, bumper-to-bumper all night long. It is great to have a top-five. Really excited about that. Coming to the white, I thought I might have had a shot at it. But Ricky and I were just too far out and those cars behind us had a big run. Very thankful for the opportunity."