NCWTS Aspen Dental Dirt Derby Preview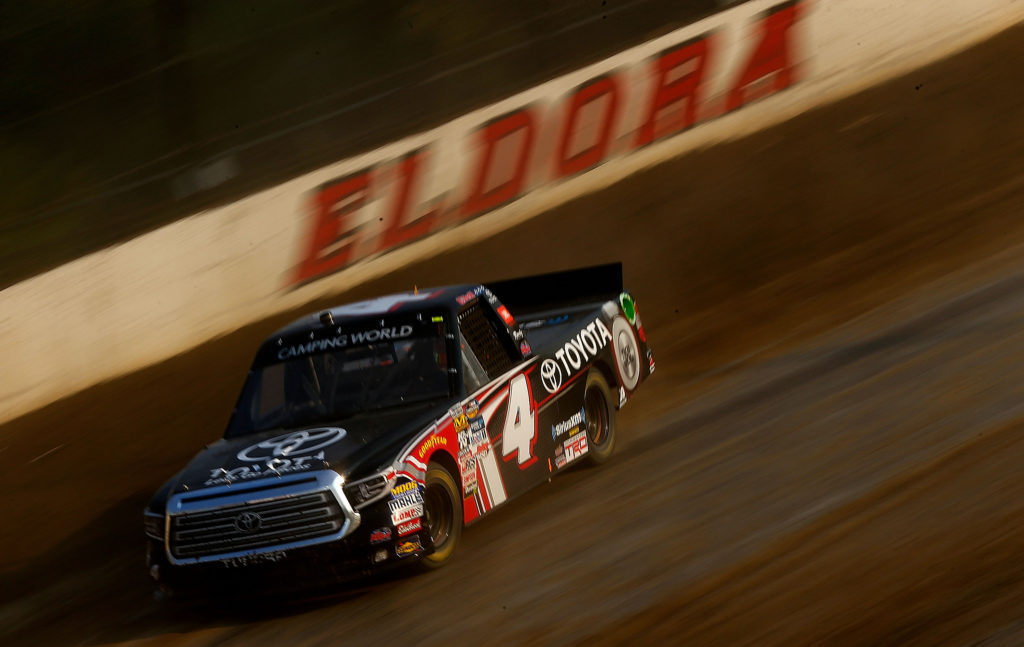 Tonight's NASCAR Camping World Truck Series race has the distinction in being one of the most popular nights in NASCAR as the series heads to Rossburg, Ohio for the Aspen Dental Dirt Derby at Eldora Speedway. For the fifth straight year, NASCAR goes back to its roots for the only national touring series race on dirt.
Christopher Bell and Johnny Sauter are both in a battle for the points lead and as the series heads to Eldora. Sauter enters the race with a 28 point lead, but Bell has a chance to close the gap as he brings a host of dirt experience with him, along with an Eldora win. Bell, the only defending race winner in the field, secured his first career Truck Series victory at Eldora in only his third career start.
Another driver who is looking to use his past dirt experience to his advantage is Chase Briscoe, who drives the No. 29 Ford F-150 for Brad Keselowski Racing. Briscoe looks to pounce on the opportunity to race on dirt, and it could send the No. 29 into the playoffs with a victory. He's came close to winning this season, finishing second to dirt rival Bell at Texas Motor Speedway. A crash in practice on Tuesday will put him a bit behind as he will be in a backup truck for the race tonight.
Young's Motorsports brings a stacked lineup behind the wheel of their trucks tonight. Australian dirt racing veteran Max Johnston makes his NASCAR Camping World Truck Series debut behind the wheel of the No. 02 Brandt Agriculture Chevrolet Silverado. Johnston has made his name known in the United States, and will look to end the night in victory lane at Eldora. Joining Johnston over at Young's Motorsports will be Sheldon Creed. Creed has had success in ARCA and the NASCAR K&N Pro Series driving for MDM Motorsports. Creed raced in the Dirt Derby last year where he finished 16th driving for Bobby Dotter and looks to carry that experience into a strong run with Young's Motorsports.
Stewart Friesen is proving this year what a successful move from dirt can do. Friesen impressed last year in the Dirt Derby, but most importantly, he outperformed expectations the rest of the races he ran at tracks like Bristol and New Hampshire. That success turned into what was supposed to be a full-time ride this season before the team was sidelined for a few races to regroup. A return trip to Eldora has to have his spirits lifted as Friesen was fastest in first practice yesterday and will look to translate that into a strong run tonight.
One of the most promising dirt ringers, Bobby Pierce, makes his return to the series with the Mittler Brothers. Pierce has come close to winning in both of his outings at Eldora in the past, despite driving for an underfunded team. Team owner Mike Mittler is still chasing his first victory in the series after 22 years in the sport, and that win could very well come tonight with Pierce.
Rico Abreu returns to the series tonight driving for ThorSport Racing behind the wheel of the No. 89 Curb Records Toyota Tundra. A fan favorite, Abreu has been another driver who has watched victory slip from his hands at Eldora. In fact, he almost watched the race from the sidelines last season after being involved in a wreck during one of the qualifying races. Abreu went out in the last chance qualifier and finished second to move on to the main where he scored his best career finish of third.
2017 Aspen Dental Dirt Derby Format
Qualifying –  Single Truck Qualifying (Two Laps)
Each driver gets two laps to themselves on Eldora to decide which heat race each driver will race in. The fastest truck will win the Keystone Light Pole Award with the pole winner starting first in Heat No. 1.
Heat Races – Five Races (10 Laps Each) *ONLY GREEN FLAG LAPS COUNT*
There will be five races with the lineup for the races based on speeds from Keystone Light Pole Qualifying. The top-five trucks from each race will automatically transfer to the main, while the rest will have their fate decided in the Last Chance Qualifier. 25 of the 32 truck lineup will be set for the race.
"Last Chance Qualifier" – 15 Lap Race *ONLY GREEN FLAG LAPS COUNT*
15 laps will decide who moves on to the main and who will be sent home packing. The lineup will be set based on finishing position in qualifying races. The top-two finishers will take 26th and 27th in the race.
Spots 28-31 will go to highest-ranked eligible trucks in the owner points that haven't already earned a starting spot. The final spot will go to the most recent eligible past series champion. If there's no past series champion eligible, the final spot will be filled based on owner points.
With 34 trucks entered, two will miss the race.
"The Main" – 150 Lap Race (40/50/60 – Stages)
The race will be divided into three stages with stage points being available in the first and second stage. There will be competition cautions at laps 40 and 90 where the laps will not count, and positions can't be improved on pit road.