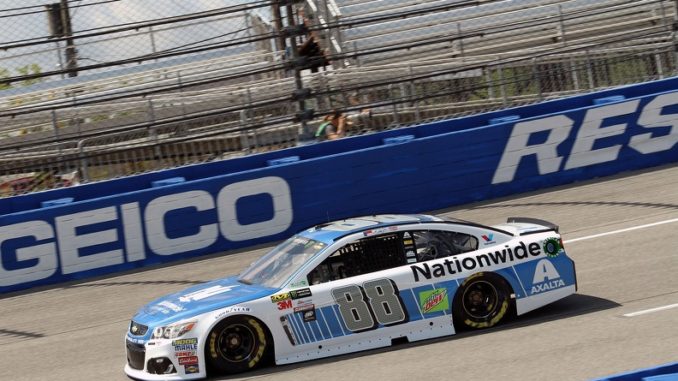 One of the major silly season moves were revealed by Hendrick Motorsports officials on Thursday as it was announced that Alex Bowman will pilot the No. 88 Chevrolet for Hendrick Motorsports in 2018 replacing a retiring Dale Earnhardt Jr.. Nationwide Insurance will sponsor Bowman in 19-races next season.
Bowman played fill-in driver last season sharing the No. 88 with Jeff Gordon after Dale Earnhardt Jr. was sidelined by concussion issues. Bowman raced 10 races with Hendrick Motorsports last season where he earned one pole at Phoenix. After starting on the pole, Bowman led 194 laps and finished a career best finish of sixth.
"The No. 88 team is such a great group of people. I know we can pick up where we left off last year, and I truly believe we can win races and contend for a championship. I'm excited to build on the relationship with Nationwide and all of our partners. It means the world that they have faith in me, and I'm thankful to have them on my side. Now I just want to go win."
Bowman has a total of 81 starts in the Monster Energy NASCAR Cup Series. Bowman made his MENCS debut in the 2014 Daytona 500 with BK Racing where he finished 23rd, He'd run the full season with BK before moving over to Tommy Baldwin Racing for 2015. He raced in 35 of the 36 races that season, missing the Daytona 500.
"Ever since I was a kid, racing is all I've wanted to do," Bowman said. "I've had so many people believe in me along the way. My family has sacrificed a lot and always been behind me. I would never have this chance without the support of Dale and everyone involved with the No. 88 team. To be part of Hendrick Motorsports and for Mr. Hendrick to have this confidence in me, it's just amazing."
As noted above, Nationwide Insurance will move from Dale Earnhardt Jr. to Alex Bowman in 2018. Nationwide sponsored Dale Earnhardt Jr. for the first time at Richmond in 2014 before moving to the primary sponsorship role in 2015 replacing a departing National Guard. He has three victories with Nationwide on board and he looks to earn a few more victories with Nationwide in his final season.
"We are thrilled to continue our relationship with Hendrick Motorsports and welcome Alex to the No. 88 Nationwide team," said Terrance Williams, chief marketing officer at Nationwide. "Rick Hendrick and the No. 88 team have been exceptional partners for the last three years, and we look forward to our joint commitment and engagement with the NASCAR community, both on and off the track."
Along with Nationwide's 19 race sponsorship deal, Axalta Coating Systems will increase it's number of races to 15 races which gives Bowman sponsorship in 34 of the 36 races. Axalta, previously known as Dupont has been with Hendrick Motorsports since 1992 with Jeff Gordon. Axalta joined the No. 88 team in 2015 and has continued its relationship into this season.
"Alex impressed the heck out of us last year with his talent, poise and professionalism," said Rick Hendrick, owner of Hendrick Motorsports. "He stepped up in a very demanding situation and showed that he can run with the best and compete for wins. His ability to stay focused through it all, and the way he's handled himself since then, has shown a lot of character. Greg and the team loved working with Alex, and that dynamic will get even better with more time together.
"Our relationship with Nationwide is unbelievable. They have a true passion for NASCAR and our fans, and to have them extend with us is gratifying for our whole team. It's also a credit to the way Alex carried himself last season and built lasting relationships. We're fortunate to work with partners like Nationwide and Axalta that have built impactful, enduring programs around the countless opportunities our sport provides."