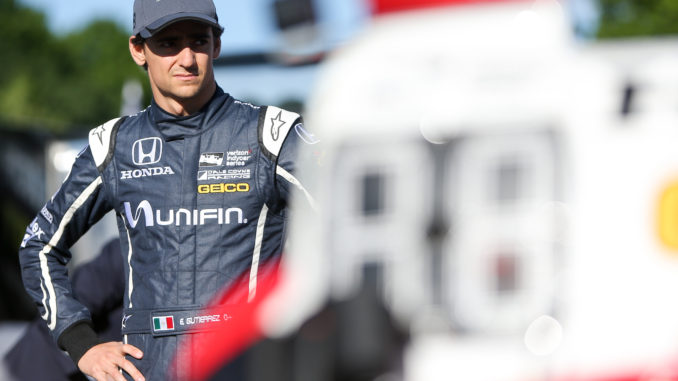 Since joining the Verizon IndyCar Series in Detroit back in June, Mexican driver Esteban Gutierrez has been getting accustomed to a new car after running both Formula 1 and Formula E over the last two years.
Gutierrez joined the paddock for Dale Coyne Racing after open-wheel racing legend Sebastien Bourdais was injured in a horrific accident while qualifying for this year's running of the Indianapolis 500. While Gutierrez wasn't the initial replacement for Bourdais, he got the call to drive in the weeks coming.
"Dale (Coyne) contacted me. We started the conversation and I didn't think twice before making the decision to come here," Gutierrez told OnPitRoad.com during the Honda Indy Toronto weekend. "It's been a pretty interesting challenge. It's a lot about learning, adapting to a different kind of racing. The ovals, the cars, the tracks. It's all new to me. We need to be patient and keep making progress."
In his first few weekends, Gutierrez has steadily improved. He's run into issues during various practice sessions, but he consistently gets better as the weekend goes on.
Coming from the Formula 1 and Formula E cars over the past two years, Gutierrez has been thrown into a lot of new roles before making his way to IndyCar. Learning how the cars and tracks work differently has been one of the biggest challenges he's faced.
"Just adapting. Formula E is a very different concept. I wouldn't compare it to IndyCar or even Formula 1. I would compare more Formula 1 to IndyCar. The car here (in IndyCar) is more natural, more raw," he said. "It requires more physical strength. That's very different from Formula 1.
"There you have more power steering. Although in Formula 1, you're going quicker in the corners. Everything is happening quicker. Mentally it's quite different. It's a different experience, but here you work a lot with the setup. You have to be very open. The tracks are very different in IndyCar. They're very bumpy. Very different layouts. It's been quite a positive way for me. Hopefully we keep getting better."
One of the biggest challenges for Gutierrez has been learning how to race on oval tracks. Before just a few weeks ago, he had never even done so much as a test lap on an oval. He took to Iowa Speedway, a 7/8-mile paved oval, for his first oval test and race. In his first start, Gutierrez ran towards the front of the field for the majority of the day before finishing an impressive 13th, his best IndyCar finish to date.
"Yeah it was surprising to me, but I was enjoying it," Gutierrez said. "At the beginning of the race it was very challenging. I was a bit lost, and then I started to gain confidence. I started to explain what was going on with the car and how to get better. From then on, I kept racing and kept focused."
With only five IndyCar races remaining on the schedule for 2017, Gutierrez knows Dale Coyne will have a seat for him for the remainder of the season, even if Bourdais returns from injury sooner than expected. As for his plans going into 2018, it's still an unknown, but he insists an IndyCar career could be an option.
"I'm pretty open to what the plans will be for next season, but I'm definitely considering IndyCar as one of my favourites. We'll see how things progress."