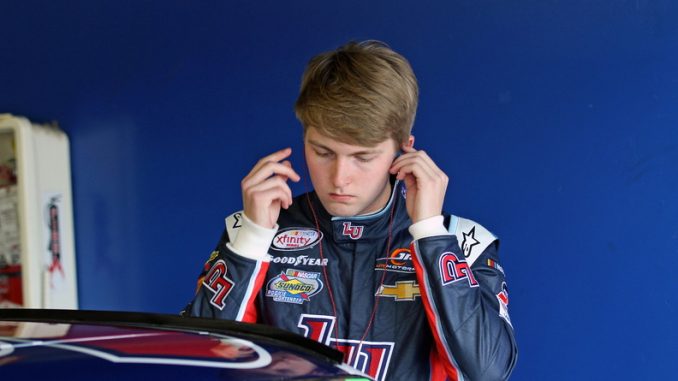 Hendrick Motorsports announced today that rising NASCAR XFINITY Series star William Byron will replace Kasey Kahne at the organization for the 2018 Monster Energy NASCAR Cup Series season.
The 19-year old standout joins a list of young drivers making the move to elite Cup teams including Ryan Blaney's addition to Team Penske in a third car, and Erik Jones' new ride at Joe Gibbs Racing, replacing Matt Kenseth.
Kahne, who has driven the No. 5 since 2012, joins Kenseth and Kurt Busch on the list of free agents going into the 2018 season.
Most recently, Kahne scored his first win since 2014 a few weeks ago at Indianapolis Motor Speedway, locking him into the playoffs giving. The win, however, wasn't enough to save Kahne his job after rumors have floated all season of him not returning to the team.
Byron earned his first career victory in the XFINITY Series earlier this year at Iowa Speedway in June. Since then, he was able to click off two more wins at two of NASCAR's most prestigious race tracks; Daytona International Speedway and Indianapolis. The JR Motorsports driver signed as a Team Hendrick development driver last year.
"It hasn't sunk in yet," said Byron, who will turn 20 on Nov. 29. "Mr. (Rick) Hendrick has built such a great team. The people at Hendrick Motorsports have dedicated their lives to giving their drivers the best chance to win every weekend. I have a responsibility to them to work hard and put everything I have into this opportunity. They need to know I'm always giving 100 percent because that's what they do.
"When I told my parents that I wanted to drive race cars, they supported me and believed I could do it. Without them, there's no way this would be possible. Axalta and Liberty University are awesome partners, and I'm so thankful for their faith in me. I'm going to do all I can to make my family, my sponsors and my teammates proud and represent them all in the right way."