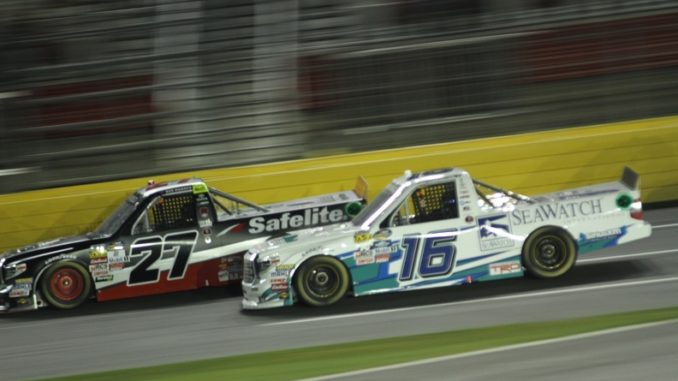 The NASCAR Camping World Truck Series heads to Bristol Motor Speedway for a mid-week showdown on Wednesday night. The Truck Series comes off of a wild race at Michigan International Speedway this past weekend where Darrell Wallace Jr. scored the elusive win, and heads to a place that is prone to phenomenal finishes just like last year's race when Ben Kennedy and Brett Moffitt battled for the victory that saw Kennedy become triumphant and earn his first career win.
Kennedy earned his playoff berth with the victory last season and now a few drivers who sit outside the playoff picture look to punch their tickets on Wednesday night. Drivers like Ryan Truex, Ben Rhodes and Noah Gragson all look to lock in their playoff spots with their first career victory in the series and after Michigan all three of those drivers enter "Thunder Valley" with momentum.
On Saturday in Michgan, Truex was able to earn his fourth top-five of the season and second in a row. It will be Truex's first visit to Bristol behind the wheel of a truck, but the Mayetta, NJ native has two starts at Bristol in the NASCAR XFINITY Series, and three starts in the Monster Energy NASCAR Cup Series. Bristol is a special track to Truex, who made his Monster Energy NASCAR Cup Series debut at the track back in 2013. Despite not making a start at Bristol in the top three series since 2014, Truex raced in the Zombie Auto 125 earlier this year in the NASCAR K&N Pro Series East.
Strong run after strong run for Rhodes and the continuous discussion of his first victory being somewhere around the corner has fueled his latest string of solid runs. Bristol was one of the first tracks he got his feet wet in the series, and it's also the place he scored his second career top-10. On Wednesday, Rhodes will make his third start at Bristol in the series and has momentum from an 11th-place finish last weekend at Michigan. Rhodes made his NASCAR K&N Pro Series East debut at Bristol back in 2013 where he finished ninth.
A crash at Pocono really set the No. 18 team back, but at Michigan, Gragson put them back on track with a solid seventh-place finish. The driver from Las Vegas, NV enters the Tennessee track with just one previous start under his belt. He raced at Bristol in the K&N Pro Series East last season where he finished 12th. Gragson will make his 16th start in the Truck Series on Wednesday and will have team owner Kyle Busch to help him learn the ropes at Bristol.
Speaking of Busch, he's looking to sweep Bristol again this weekend. Busch will pilot the No. 46 Toyota Tundra on Wednesday and the No. 18 Toyota Camry on Friday and Saturday. When it comes to the NASCAR Camping World Truck Series at Bristol, there hasn't been many to step face to face with Rowdy. He currently holds the most victories at Bristol in the series with four apiece.
The only team that has seemingly stepped up to Busch has been his rivals team, Brad Keselowski Racing. Despite GMS Racing visiting victory lane last season, BKR has gone to victory lane two out of the last three seasons. Brad Keselowski earned his first career victory in the series in 2014 and Ryan Blaney earned the victory the following season. Austin Cindric made his BMS debut last season, but had several issues over the course of the race. He looks to redeem himself this year after posting his strongest run of the season in fourth at Michigan last weekend. His teammate Chase Briscoe is in the same shoes Cindric was in last season visiting Bristol for the first time but that hasn't seemed to phase the 2016 ARCA Racing Series Champion at any point this season.