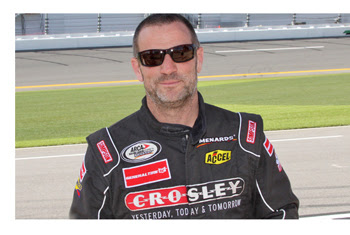 Concord, North Carolina (August 23, 2017) – Veteran driver Bo LeMastus will join Venturini Motorsports (VMS) for two races starting with Sunday's ARCA Racing Series presented by Menards event at Road America and again at Salem Speedway on September 9.
LeMastus, a native of Louisville, Kentucky will pilot the team's No.55 Toyota with familiar Crosley Brands serving as primary sponsor for both events.
"I'm excited for today's announcement and the opportunity to run with Venturini Motorsports for these two (Road America and Salem Speedway) ARCA races," said LeMastus. "We've always had a great relationship off the track – this is something we've talked about doing together and now we have our chance."
Sunday's Road America appearance will mark LeMastus' second career start on the four-mile, 14-turn Wisconsin road circuit and his fourth overall road course start over the last five years. His career best road course finish of 12th came at New Jersey Motorsports Park in 2015.
"Road course racing has always been one of my favorite forms of racing. Going back to Road America is a great privilege – I'm happy to see it back on the ARCA schedule. There's no question it's one of the premier racing facilities in the country – a lot of fun to race, it's a very demanding and technical track. I'm really looking forward to Sunday and seeing what we can do."
This weekend's Road America event will be LeMastus' sixth start of the 2017 season. His season high finish of 10th came early in the year at Talladega Superspeedway.
Since making his series debut in 2013 LeMastus has made 39 starts scoring a career best 6th at Daytona Int'l Speedway in 2016. In 2015, during his only full season effort LeMastus finished sixth in ARCA's national driver point standings.
Prior to competing in the ARCA Series LeMastus is also a veteran of SCCA, NASA/SCCA, HSR, WERA, SVRA and VSCDA road racing. Some of the well-known tracks where LeMastus has logged laps over the years include Mid Ohio Sports Car Course, Sebring, Road Atlanta, Watkins Glen, Road America, New Jersey Motorsports Park and Daytona.
When he's not pursuing his passion for motorsports, Bo LeMastus is the CEO of Crosley Brands, which manufactures vintage electronics under the Crosley Brand name.
Road America 100 Information
The Road America ARCA 100 is Sunday, August 27. The series will have two practice sessions as well as group qualifying on Saturday. The race will begin at 12:00 p.m. cst and will be tape-delayed on MAVTV at a later date. ARCAracing.com will have live timing/scoring as well as a live audio call of the event.
About Crosley Brands
For over 30 years, Crosley Brands has been a leader in the nostalgic electronics category. From our beginning in the premium incentive industry, we went on to develop our own exclusive lines and build solid relationships with some of the most well-known catalogers and retailers in the business. Today, you may know us for having built a solid reputation with our exclusive brands such as Crosley Radio and Crosley Furniture. For more information on our outstanding products visit www.CrosleyBrands.com.
ABOUT VENTURINI MOTORSPORTS:
Venturini Motorsports (VMS), fielding cars for over 30-years in the ARCA Racing Series presented by Menards, is one of the premier NASCAR driver development programs in the country. Multiple team championships and consistent on-track success, VMS has evolved into one of the most recognizable names in motorsports. Since 2007, VMS has assisted in the career development of notable NASCAR drivers such as Joey Logano, Erik Jones, William Byron, Christopher Bell, Justin Allgaier, Alex Bowman, Ryan Blaney, Brennan Poole, Kyle Benjamin, Daniel Suarez, and Brandon Jones. Over the years the Venturini name has become synonymous with modern-day racing in America. In 2012, the Venturini family was inducted into the National Italian American Sports Hall of Fame (www.NIASHF.org) and now find themselves enshrined with such sports icons as Joe DiMaggio, Mario Andretti, Vince Lombardi, Tommy Lasorda and Rocky Marciano.