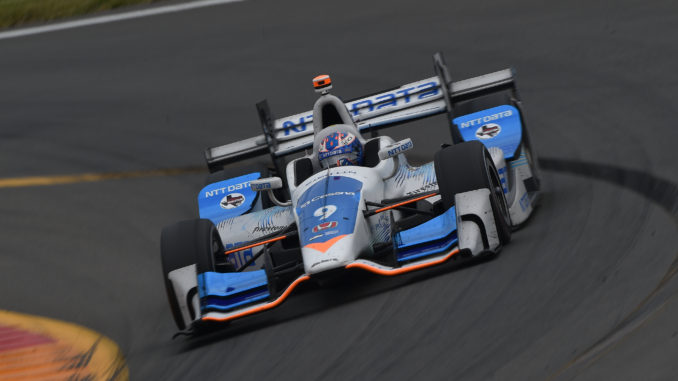 Capitalizing on championship rival Josef Newgarden's issues, Scott Dixon crossed the start/finish line of the IndyCar Grand Prix at the Glen at Watkins Glen International in the runner-up spot, putting him in good position for the title fight at Sonoma Raceway.
Coming into the race weekend, Dixon was 33 points out of first behind points leader Newgarden. During the race, Dixon played it safe and just quietly hung out inside the top-10.
During a late race caution, Newgarden was involved in an incident coming off pit road, which caused him to lose laps and ultimately relegate him to an 18th-place finish.
While Dixon managed to work his way up to second and was catching Rossi in the closing stages, he couldn't get close enough to the American to pass him. By finishing second, Dixon gained 30 points in the point standings and now sits three points out of first going into the final race of the season at Sonoma, a double points race.
"It was definitely an exciting day for the No. 9 NTT Data car. I locked up the tires on the first stop and I don't think we got any fuel. We had to save fuel on the next stint as a result and battled our way back. I think we passed a lot of cars today and it was fun to contend with (Alexander) Rossi there for the win. Big congrats to him and good to see Honda run strong at Watkins Glen."
Dixon plans to treat the race at Sonoma like any other race weekend, but hopes to carry the momentum from the past two races in and go for the championship.