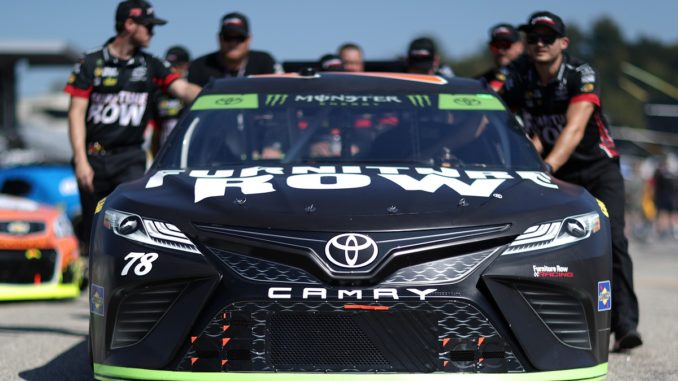 The key to putting together a championship season in the Monster Energy NASCAR Cup Series is running strong, finding a way to have decent finishes when the car is a little off, and overcoming mistakes and adversity.  Sunday at New Hampshire, Truex showed everyone this may indeed be his season to lose.
As Stage 2 was coming to an end in the ISM Connect 300, Truex got collected in an incident that also ended the days of other Playoff competitors, Kurt Busch and Brad Keselowski. Truex received minor damage, but the No. 78 team was able to make repairs quickly. The hard charging Truex overcame this adversity to score yet another top-five finish in what is undoubtedly his career best season.
It seems as if Martin Truex Jr and his Furniture Row Racing team have been almost infallible in recent weeks. These are the things championship teams are made of. It was not that long ago that the Furniture Row Racing team seemingly could not make it through a race without costly mistakes. It also helps that the Toyota teams definitely have something figured out and are extremely fast each week.
Barney Visser, however, did not let this take away his desire to build a winning team. He has hired the right people in key areas. The most notable acquisitions are driver, Martin Truex Jr, and, crew chief, Cole Pearn. He also entered into a relationship with Joe Gibbs Racing, one of the most successful teams in the series in recent years.
All the pieces of the puzzle are now in place. It seems the only piece needed to seal the deal is to acquire the mythical Jimmie Johnson golden horseshoe. As we leave New Hampshire, it appears to be securely in hand.