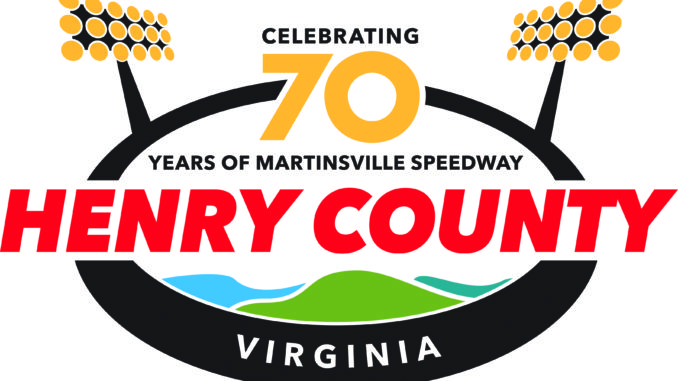 MARTINSVILLE, Va. (September 27, 2017) – Timothy Peters' exciting Late Model Stock victory under Martinsville Speedway's new LED lights last Saturday night was an equally big win for Henry County.
Henry County, home of Martinsville Speedway, will be featured on the hood of Peters' Chevrolet Silverado in Saturday's Las Vegas 350 NASCAR Camping World Truck Series race at Las Vegas Motor Speedway.
Peters' Late Model car owner, Barry Nelson, is backing the driver's efforts at Las Vegas this weekend. A Henry County native, Nelson saw an opportunity to showcase his community on a national stage through the partnership with Henry County.
"Barry and I spoke Saturday at the ValleyStar Credit Union 300 about perhaps placing our new logo on the truck for the Las Vegas race," said Tim Hall, Henry County administrator. "Then karma steps in and Timothy wins that race. Barry and I spoke again in Victory Lane and we said 'yep, this is a good idea.' So here we are.
"Our community has a great story to tell. We are looking forward to telling it through this new opportunity."
Peters, who has 10 NASCAR Camping World Truck Series victories in his 12-year career, was the pole-winner for the Las Vegas 350 a year ago. He won the event in 2013. But the veteran driver, who was in the truck series final four a year ago and finished fourth in the series standings, has been without a ride since Red Horse Racing folded in May.
He has long worked with Nelson's late model program, Nelson Motorsports, and occasionally drives for the team in big events. That was the case last weekend when he wheeled his way to a win in NASCAR Late Model racing's biggest event, the ValleyStar Credit Union 300, in the debut of Martinsville Speedway's new, permanent lighting.
The county will utilize a logo it unveiled earlier this year to recognize Martinsville Speedway's 70th anniversary in 2017.
"I'm proud of the community I live in and thought this would be a little way I could give back," said Nelson, owner of AutosbyNelson, a group of seven dealerships based in Henry County. "We hope people will see it at the track or on television, ask questions and hopefully do some business in our county."
"Henry County is thrilled to be part of the Timothy Peters' race team this weekend," said Hall. "Racing is in our blood, with the Martinsville Speedway and the Racing College at Patrick Henry Community College in our community. This is the perfect way to support our efforts in racing and in marketing our region."
Peters will compete this weekend for Young's Motorsports, which has fielded entries in the NASCAR Camping World Truck Series on a fulltime basis since 2014
.
Nelson brings several other partners to the truck for the weekend, including AutosbyNelson.com, Honda Generators and Blue Ridge Color Company.
The Las Vegas 350 will be broadcast live on Fox Sports 1 at 8 p.m. Saturday.