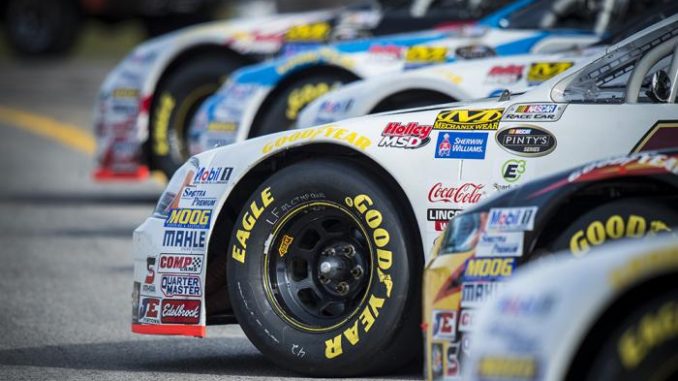 The NASCAR Pinty's Series schedule for 2018 has been released. Among the races on the calendar are a much anticipated date in the United States and a second date for Jukasa Motor Speedway following a late-2017 add for the revamped track.
The series enters its 12th season, and the 2018 calendar will host races in five provinces across Canada, including nine oval track races and five on road courses.
"The NASCAR Pinty's Series continues to grow as new talent comes into the series and challenges some of the country's best stock car drivers," said Jim Cassidy, NASCAR senior vice president of racing operations. "The 2018 schedule provides a strong platform for these competitors to showcase their driving and covers a number of high-profile events designed to further enhance the series."
It was announced a few short months ago that the Canadian series would make its first trip south of the border to New Hampshire Motor Speedway next September. That move was made to bolster the New England track's schedule when the Monster Energy NASCAR Cup Series and NASCAR Camping World Truck Series would no longer race there in September. Instead, the Pinty's Series joins the Whelen Modified Tour and NASCAR K&N Pro Series East as the three series host a tripleheader for northeastern race fans.
Jukasa will now have two race dates on the schedule after having none at this time last year. The track located just outside of Hamilton, Ontario was added to the 2017 schedule late in the season to replace Kawartha Speedway. The track will once again host the series finale. It will also be the site of the second race of the season, replacing Delaware Speedway, which returned to the schedule last year for the first time since 2013.
Circuit ICAR will also be removed from the schedule for the first time since the track was added in 2011. The short road course held on an old airport was a fan favourite among many, especially after adding lights to the track and running in the evening this past season.
2018 NASCAR PINTY'S SERIES SCHEDULE
| Date | Track | Location |
| --- | --- | --- |
| 20-May | Canadian Tire Motorsport Park | Bowmanville, Ont. |
| 16-Jun | Jukasa Motor Speedway | Hamilton, Ont. |
| 30-Jun | Autodrome Chaudiere | Chaudiere, Que. |
| 14-Jul | Exhibition Place | Toronto, Ont.. |
| 25-Jul | Wyant Group Raceway* | Saskatoon, Sask. |
| 25-Jul | Wyant Group Raceway* | Saskatoon, Sask. |
| 28-Jul | Edmonton International Raceway | Wetaskiwin, Alb. |
| 12-Aug | Circuit Trois-Rivières | Trois-Rivières, Que. |
| 18-Aug | Riverside International Speedway | Antigonish, N.S. |
| 26-Aug | Canadian Tire Motorsport Park | Bowmanville, Ont. |
| 8-Sep | Autodrome St-Eustache | St. Eustache, Que. |
| 22-Sep | New Hampshire Motor Speedway | Loudon, N.H. |
| 29-Sep | Jukasa Motor Speedway | Hamilton, Ont. |