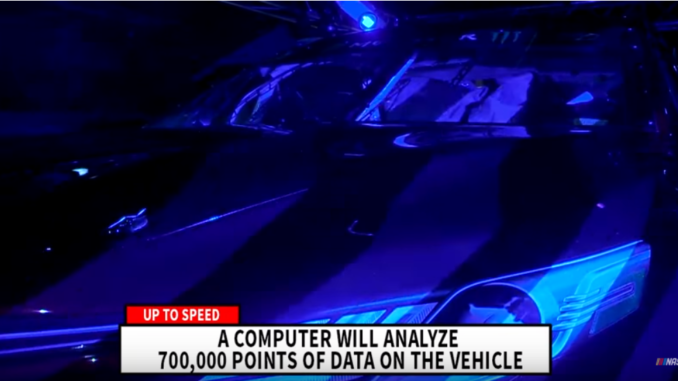 At the beginning of this season, NASCAR implemented a new, high-tech optical scanner to be used in the inspection process. The idea is to provide much more accurate measurements of key elements of the racecar in which minor alterations offer performance advantages.
This process will allow teams a mere .150" tolerance on metal surfaces and .200" on glass surfaces. To give an idea of how much tolerance that is, a standard business card is .010". Therefore, metal surfaces have a tolerance the thickness of 15 standard business cards. Not much room for error when building a full-size Monster Energy NASCAR Cup Series racecar.
In the opening weeks of the 2018 season, we have seen multiple teams struggle to make it through inspection the first time, and in many cases, not making through after multiple attempts. Defending series champion, Martin Truex Jr, completely missed qualifying at Atlanta due to issues with inspection.
As with everything in NASCAR, there are two schools of thought regarding the new, more stringent inspection process. One side agrees with NASCAR, this process levels the playing field and improves competition.  "It is, I believe, just like every other aspect of the sport, whether that be the way we officiate pit road or the way we execute timing and scoring," said Scott Miller, NASCAR Senior Vice President of Competition. "It's all as technology develops, we are trying to adapt technology to best serve the industry. This is just another example of that."
"I think obviously one of the big goals is just to create a level playing field for the competitors and that it goes a long way with its accuracy and capabilities to getting to that end," Miller concluded.
The idea is that the smaller teams cannot afford a team of design engineers who spend all of their time finding advantages that result in just thousandths of seconds of improvement on the racetrack. Therefore, the larger mega teams have a distinct advantage.
If the box they must work within is smaller, there is much less chance for them to gain advantages over teams who struggle to just make it to the track week to week and have just enough team members to cover the standard required positions. We see this same thought process being applied with the new regulated pit guns and limited number of over the wall crew members.
The overall idea is to tighten competition and improve the on-track product, which is obviously a response to the outcry of fans who want more side-by-side racing. Critics, however, liken this concept to technical socialism where everyone has the same car thus leading to just another IROC series.
The other side of the token is that this process limits the ingenuity and stifles the creativity of the crew chiefs and mechanics. By minimizing the tolerance and reducing the grey area, crafty crew chiefs like Chad Knauss, cannot utilize small loopholes in the rules to find advantages over the competition.
Recall the shock package controversy at Dover a few years ago? Well within the rules but provided huge benefits to the No. 48 team. There was a rule change after that event.
Think back to the days of mechanical gurus such as Smokey Yunick and Junior Johnson. Would they be the legends they are if they were so limited? Perhaps we are eliminating the possibility of creating future legendary mechanics. Just another vanilla personality sitting atop a pitbox with no differentiation from anyone else.
Critics of this side point out if we allow teams to "experiment" in the grey area, a few teams will dominate, and we will see results that harken back to days gone by. Days when winners won by laps, not milliseconds.
Perhaps this still allows mechanics to get creative, only in different ways. Strategy and mechanical setup that aligns with their driver's preferences. It also puts more emphasis on the pit crews, they must perform at a high level. With very little speed advantage on track, every second on pit road is more valuable than ever.
There really is not a right or wrong answer to this question, but that will not prevent its debate all season.