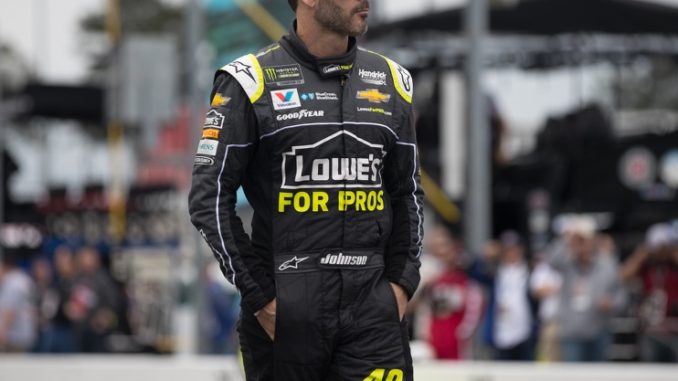 Let's get this out of the way up front: This years rules for the Monster Energy All-Star Race are vastly different than any previous All-Star event. But, if you are looking to see who "should" be the favorites for the 2018 running of the race, OnPitRoad has you covered.
If you are looking towards experience, look no further than Kevin Harvick and Matt Kenseth. Both have competed in 17 All-Star Races during their careers and both have a single victory each in the event.
Meanwhile, Kurt Busch, Ryan Newman and Jimmie Johnson are all competing in their 16th All-Star Race. Busch and Newman each have one victory and Johnson – well, he's a four-time winner, the most among any driver in the event.
Johnson not only has the most wins and second most starts, he also has an average finish of 6.9 and has finished on the lead lap 15 times. On paper he would be one of the favorites but we all know how the Hendrick cars have struggled so far in 2018. Perhaps the new rules package will allow Johnson to have another crack at a win.
No other driver besides Johnson has more than one victory in the All-Star Race. You might be surprised to know that neither Martin Truex, Jr. nor Brad Keselowski have a win in the All-Star Race. Both will try to change that on Saturday night.
Of the drivers already qualified for the event, Kasey Kahne would be considered the biggest longshot at this point. Driving for Leavine Family Racing in 2018, Kahne has a best finish of 17th on three separate occasions. He won this race 10 years ago.
Vegas odds have Kyle Busch as the favorite at 5-1, Kevin Harvick at 6-1 and Martin Truex, Jr. at 8-1.
With three drivers transferring from the Open the favorites to transfer are Chase Elliott, Erik Jones, and Daniel Suarez. One more driver will get in via the fan vote.
The great unknown of how these cars will react with the new rules package may render these statistics useless at worst, and a general guide at best. That's one reason this year's running of the event could be considered a "must watch."
Who do you have winning the 2018 All-Star Race?
**The opinions expressed on this site are not necessarily those of the publisher, management or staff. All comments other than website related problems need to be directed to the author. (c)OnPitRoad.com. **