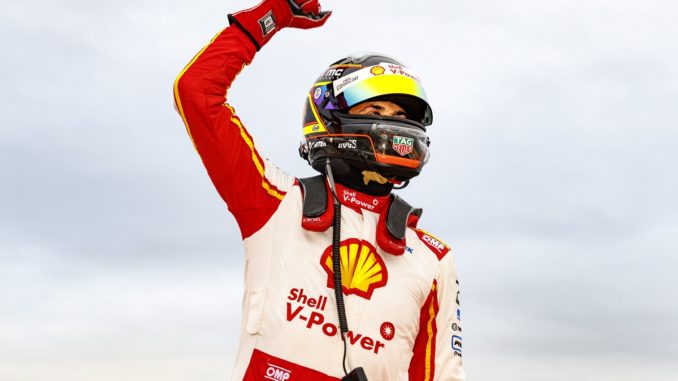 Fabian Coulthard broke an eight-month drought in an all Kiwi finish with his first win of the Virgin Australia Supercars Championship season in Winton.
Coulthard outlasted a fast finishing Shane van Gisbergen and his Shell V-Power Racing team-mate Scott McLaughlin in regional Victoria to record his first win since August last year.
It has been a frustrating year for Coulthard, who was third in last year's Championship having led in the first part of last year, who now sits seventh in the points in 2018.
He built a big lead through race strategy, a fast car and managing the gap to a comfortable win, becoming the eighth different winner in 14 races for the season.
Coulthard made the most of a terrible start by McLaughlin from ARMOR ALL Pole Position and was not headed, leading from flag to flag in the 67-lap race.
"It was fantastic and I can't thank my guys enough," Coulthard said. "The car was on rails today and a pleasure to drive. I am not sure what happened to Scotty.
"It's unfortunate we couldn't have the two Shell cars going through the first corner 1-2. That wasn't be but a one and three plus an all Kiwi podium is awesome. Choice as hey."
McLaughlin's incredible run of pole positions continued with a repeat of the front row lockout he and Coulthard secured yesterday. It moved McLaughlin past Allan Moffat on the all-time list with the 40th of his Supercars career.
But his trouble to convert continued when he all but stalled on the grid, allowing six cars past him by the third corner, dropping back to eighth while Coulthard pounced ahead. Nissan's Rick Kelly and Michael Caruso pushed into second and third.
"I have had pretty bad ones in the past but I will take my good ones and learn from this one that I stuffed up today. Congratulations to Fabian, he did an awesome job," McLaughlin said.
As the strategies kicked in McLaughlin managed to manoeuvre his way back into the race and by his last stop had jumped Kelly and Caruso. Coulthard stayed out longer before his third and final stop, re-joining with his lead intact.
In a largely uneventful race Van Gisbergen was the prime mover and began catching Coulthard early in the last stint before giving the chase away in the closing laps.
"I haven't driven that hard in a long time, the car was fantastic," Van Gisbergen said. "And a Kiwi 1-2-3 for the first time, how good is that."
McLaughlin now leads Van Gisbergen by 131 points in the Championship from Craig Lowndes.
Yesterday's winner Kelly was fourth in the Altima with his team-mate Caruso fifth as the Nissan team continues their run of great form, with Boost Mobile Racing's Scott Pye sixth.
Supercars teams will now have an opportunity to regroup as they prepare for the seventh round the Championship, the CrownBet Darwin Triple Crown which will run from 15-17 June.
FOLLOWING TODAY'S RACE 14: WINTON SUPERSPRINT
  1st – Fabian Coulthard (Ford)
2nd – Shane van Gisbergen (Holden)
3rd –  Scott McLaughlin (Ford)
  1st – Scott McLaughlin (1487 points)
2nd – Shane van Gisbergen (1356 points)
3rd – Craig Lowndes (1188 points)
Click here for full results and current championship standings.