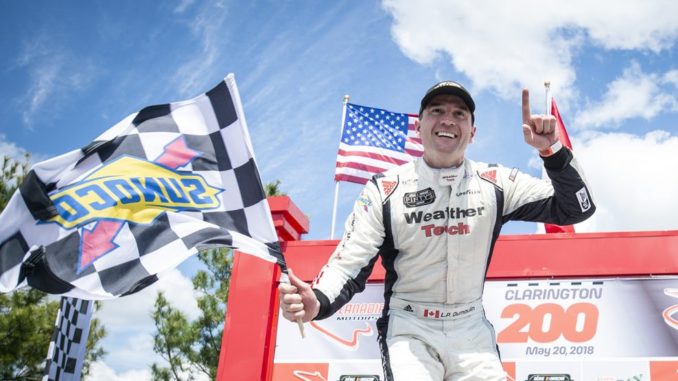 BOWMANVILLE, Ont – It was 40 races since L.P Dumoulin had been to Victory Lane. And it only took one lap Sunday for him to end that streak.
Dumoulin inherited the lead after last lap contact between Andrew Rangers and Kevin Lacroix, and he drove his No. 47 WeatherTech Canada/ Bellemare Dodge to the win in the Clarington 200 at Canadian Tire Motorsports Park.
For the 39-year-old driver from Trois-Rivieres, Quebec, it was his fifth career NASCAR Pinty's Series win and third at CTMP.
This win also marked Dumoulin's first win since Trois-Rivieres in 2014.
Dumoulin was in perfect position when the contact on the white-flag lap between Andrew Ranger and Kevin Lacroix in Turn 5 opened the door. The incident knocked Lacroix from the lead and resulted in a penalty on Ranger for his actions.
Marc-Antoine Camirand finished in the runner-up position, while NASCAR Camping World Truck Series driver Noah Gragson come home third. Gragson, a NASCAR Next graduate who finished eighth in the truck race at Charlotte Motor Speedway Friday, became the third American to sit on the podium in a Pinty's Series event.
D.J. Kennington finished fourth, while defending race winner Kevin Lacroix brought it home in fifth after beg turned.
Cole Powell was sixth, followed by Kerry Micks, James Vance, Brett Taylor, and Adam Martin.
Andrew Ranger was initially crossed the finish line in second, but was given a time penalty for his involvement in Lacroix's spin from NASCAR and was re-classifed in the 12th position.
The Clarington 200 will air on TSN4 on Sunday, May 27 at 4:30 p.m., and on RDS2 on Tuesday, June 5 at 10:30 p.m.
The NASCAR Pinty's Series will be back in action on Saturday, June 16 for the Rankin Construction 200 at the Jukasa Motor Speedway in Hagersville,  Ont.
Full Results