NASCAR Five Burning Questions – August 10th 2018 Edition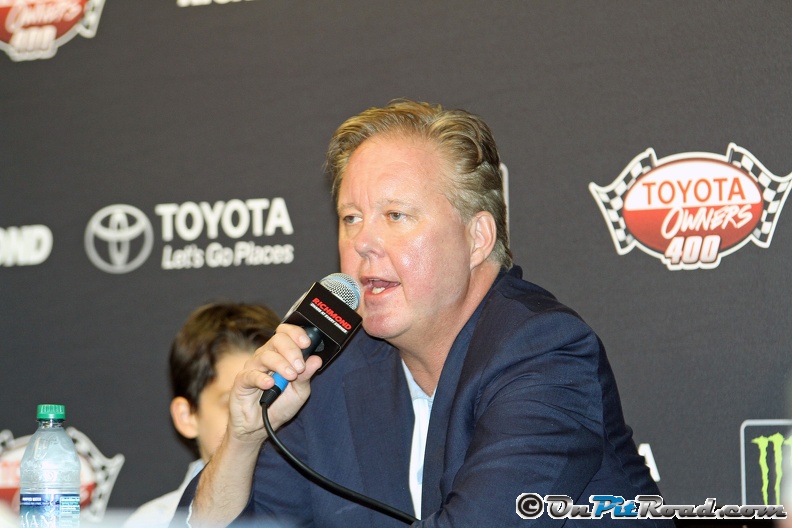 There's tons of NASCAR news every week throughout the garages of the Monster Energy, Xfinity, and Camping World Truck Series. With our new On Pit Road series we will dive into "Five Burning Questions" throughout the NASCAR garage every week. This series will cover all three divisions and I will give my opinion on the biggest questions each and every week. Without further ado here's this week's Five Burning Questions:
1. How will the Brian France incident be handled? 
There's literally been hundreds of articles about Brian France over the past few days after his arrest in New York late Sunday evening. I'm not going to pile on and honestly what more can be said? I will say that despite how I feel the sport of NASCAR has been ran I find it appalling how some of the NASCAR media has attacked France this week. I'm pretty sure that no one reading this is perfect and we've all made mistakes. I'm not taking up or defending France in any way and hope he gets the help he needs but I think attacking and "kicking" someone when they are down is just a miserable way to be.
Saying that, this is definitely a difficult situation for everyone involved. I was very optimistic about NASCAR last week after hearing the new aero package may be used 14 times in the 2019 season and then seeing Chase Elliott get his first win. I feel that both of those things are great for the sport but then this France news broke and dominated the week. I just hope that we can focus on the positives and try to keep some of the negativity out of the situation this weekend during the TV broadcasts. I sincerely hope Brian France gets the help he needs and that this isn't going to be a cloud over the remainder of the 2018 season.
2. Can Chase Elliott run with "The Big 3" at Michigan?
Chase Elliott led Hendrick Motorsports to it's first win of the 2018 season last weekend at Watkins Glen. Of course, Watkins Glen is a road course and a bit of a different beast. It will be interesting to see if Elliott and his Hendrick teammates can compete with Truex, Harvick, and Busch on the big two mile Michigan Speedway.
3. Who will drive the Chip Ganassi Racing No. 1 Cup car next season? 
Over two weeks ago, I wrote an article on potential moves in the NASCAR garage in 2019. One of my predictions was Kurt Busch to the CGR No. 1 Chevrolet, replacing Jamie McMurray. There are other outlets now trying to link Busch to CGR. McMurray isn't totally out the door yet as some are reporting that he is still in the mix to be back. Yet another rumor floating around this week was John Hunter Nemechek to this car in 2019.
Personally, I think Nemechek is a heck of a driver and will be a top-level NASCAR driver one day. However, hotshotting him to Cup without even a full year of Xfinity would be a tall task. I will stick with my original prediction that Kurt Busch will get this ride in 2019.
4. Will we get a new winner in the Xfinity Series this weekend?
This week the NASCAR Xfinity Series heads to Mid-Ohio and there's a laundry list of drivers looking for their first victory of the 2018 campaign. Cole Custer, Daniel Hemric, Elliott Sadler, Brandon Jones, Ryan Truex, Austin Cindric, Matt Tifft, and Ryan Reed, among others, are all looking to punch their ticket into the 2018 Xfinity playoffs. This will be the sixth trip to the Mid-Ohio Sports Car Course and it's always a tossup on who will take home the win. A.J. Allmendinger, Chris Buescher, Regan Smith, Justin Marks, and Sam Hornish, Jr. are the previous winners at the track. With a chance of scattered afternoon thunderstorms around race time, it will be very interesting to see who prevails this weekend.
5. Will Matt Crafton continue to struggle in the Camping World Truck Series?
It has been more than a year since longtime truck series campaigner Matt Crafton has visited Victory Lane. His last win came in July 2017 at Eldora. Crafton has struggled throughout the 2018 CWTS season and has only led 35 laps all year. Crafton has never won a race at MIS but will look to change his fortunes with a strong run to get him back into the championship discussion.
**The opinions expressed on this site are not necessarily those of the publisher, management or staff. All comments other than website related problems need to be directed to the author. (c)OnPitRoad.com. **