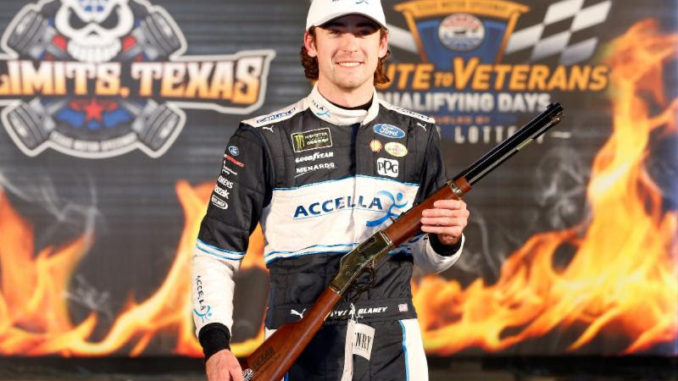 FORT WORTH, Texas (Nov. 2, 2018) — Ryan Blaney recorded the second 200 mph NASCAR Cup Series qualifying lap on a 1.5-mile race track Friday evening during time trials for the 14th annual AAA Texas 500 Monster Energy NASCAR Cup Series Playoff race at Texas Motor Speedway.
Blaney's lap in 26.932 seconds at 200.505 mph was posted nearly one year after Kurt Busch set the track record at 26.877-seconds/200.915 mph. Blaney earned his first pole in eight starts at TMS, his third pole and 23rd top-10 start of 2018 and fifth pole in 124 Monster Energy NASCAR Cup Series races.
"It felt really fast," said Blaney, driver of the No. 12 Accella/Carlisle Ford Fusion fielded by Team Penske. "That's what you get with this night time qualifying _ high speeds. That's really what you get. That's cool doing under-the lights-qualifying. Speeds pick up and it has been cool here today.
"We've had a really good Ford all day and it's nice to back it up in qualifying. It doesn't mean a lot if you're fastest in practice and blow it in qualifying. It was cool to be solid all day. Really big thanks to this whole group for giving me a really great race car, and I'm excited to see how it is in race trim tomorrow."
Truth be told, Blaney said he would like to have clocked 201 mph.
"I mean, it's super-fast, that's a product of it being night time and a little colder outside and a good-handling race car," Blaney said. "Honestly we go to a lot of tracks now that are pretty close (to 200 mph) like Michigan where you go faster than that. Here it's super-fast today. It doesn't really feel like it, you're just trying your best to hit your line.
"That's bookin' it. You won't see much of that stuff next year, so enjoy it now." That was a reference to a rules package NASCAR is in the process of testing for the 2019 season.
| | |
| --- | --- |
| | |
| In need of a strong run to keep his championship hopes alive, Clint Bowyer qualified second on Friday night. | |
Round of 8 Playoff contender Clint Bowyer will start second after his lap of 200.230 mph – good for his 15th top-10 start of the season and 10th in 26 races at "The Great American Speedway."
"That felt fast," said Bowyer, driver of the No. 14 Rush Truck Centers Ford. "After you come off of Martinsville (flat, half-mile oval), that little short track and head out here to this place, it just feels crazy fast. I'm really proud of my guys. Our Rush Truck Centers Ford was good all day long. I'm proud of all the guys and proud of the shop for bringing four fast (SHR) hot rods again. For the better part of the day we were four of the best six or seven cars. That's the speed part. Now we have to make them live and be good on the long run. If we can do that, maybe we can keep ourselves in this thing."
Playoff contender Kevin Harvick, Bowyer's SHR teammate, will start third after lapping at 199.941 mph in a No. 4 Mobil 1 Ford he believes is totally dialed-in.
"I don't think we need to improve anywhere," Harvick said. "I think we did good and everyone on our Mobil 1 Ford did a good job and we have a good starting spot.
"With the new asphalt it really won't change a whole lot (during the race). It has a ton of grip and you just have to kind of keep your car working good. I think as you go, it'll be pretty much the same as you go through the afternoon practices."
Playoff contender Aric Almirola will start fourth after lapping at 199.527 mph in the No. 10 Smithfield Spirals Ford, also fielded by SHR. Playoff contender Kurt Busch, also of SHR, qualified seventh at 199.225 mph in the No. 41 State Water Heaters Fusion.
Sunday's 334-lap/501-mile AAA Texas 500 (2 p.m. CT, TV: NBC Sports Network; Radio: Sirius/XM, PRN, 95.9 FM The Ranch locally) is the middle of three events in the Round of 8.
Joey Logano of Team Penske secured his spot in the Championship Four at Homestead-Miami Speedway later this month with his controversial bump-and-run victory over Martin Truex Jr. at the half-mile Martinsville Speedway last Sunday. Logano will start eighth after lapping at 199.086 mph in the No. 22 AAA Insurance Ford fielded by Team Penske.
Playoff contender Kyle Busch advance to the Round of 12 in qualifying and will start 10th after lapping at 198.705 mph in the No. 18 M&M's Toyota Camry fielded by Joe Gibbs Racing.
Truex, the reigning Cup champion and Playoff contender based upon points, will start 13th after a lap of 197.109 mph in the No. 78 Bass Pro Shops/5-hour ENERGY Toyota fielded by Furniture Row Racing.
Chase Elliott, Chevrolet's lone Playoff contender, was knocked out in the opening round and will start 16th after a lap at 196.321 mph in the No. 9 Kelley Blue Book Camaro ZL1 fielded by Hendrick Motorsports.