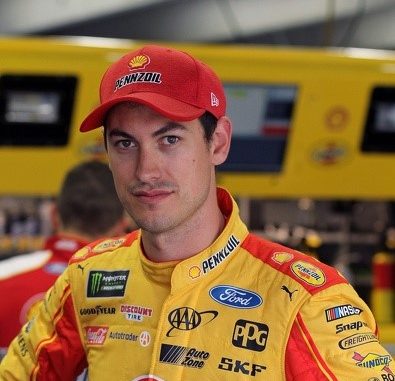 Joey Logano is currently the only driver locked into the Championship 4 at Homestead after Kevin Harvick's win at Texas was encumbered due to an L1 penalty. On Friday at ISM Raceway, Logano was asked how he felt being the only driver who is guaranteed to race for a championship. "It caught me by surprise, for sure.  I said 15 weeks ago I said we were an underdog and I would be surprised if we made it to the final four and now, I feel like we are the favorites to win this thing.  It's crazy how things change", said Logano.
Logano has good reason to be confident. Since the Playoffs began, Logano has one win at Martinsville, which secured his berth at Homestead, and has finished in the top-10 in every playoff race except Richmond where he finished 14th. Logano's fellow Playoff competitors did not share the same opinion.
Martin Truex Jr, the driver Logano bumped out of the way to score the win at Martinsville, shared his thoughts on Logano's contention that he is the favorite, "Good for him. I don't think that's the case, but that's just my opinion." Truex currently sits third in the standings, 25 points above the cutoff.
Likewise, Chase Elliott did not seem overly concerned about Logano. "I mean I don't really care what he thinks." Elliott's playoff performance has also been strong with two wins. He is the only driver with multiple wins since the start of the Playoffs. Elliott heads to ISM Raceway in sixth position, 17 points outside the top-four.
Logano's confidence, however, has only developed recently. As the playoffs started, he actually considered his team an underdog. 'When the Playoffs started I kind of felt like we were an underdog of making it and honestly the last six or seven weeks we've led a lot more laps, we've won a lot of stages, won a race, was fast at Kansas, was fast at Texas, you know what, I think we're the favorite now to win now.'
Drivers will have their final chance to secure a chance at the title Sunday at ISM Raceway. Kurt Busch is only three points out of the top-four. Elliott has a slim chance on points but will likely need a top-four driver to have trouble to advance without a victory. Aric Almirola and Clint Bowyer are in must win situations.