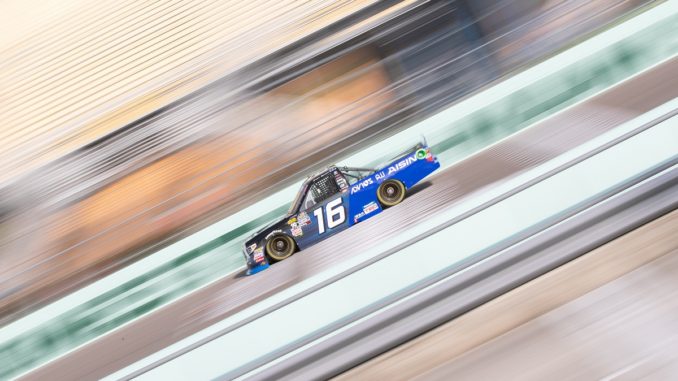 Brett Moffitt made it to the season finale at Homestead, chasing his first Career NCWTS Title. That statement is a major accomplishment in itself for Moffitt and Hattori Racing Enterprises. They are a relatively underfunded team that requires having sponsorship to race. At the beginning of the 2018 season, it was unknown how far Moffitt would go with Hattori Racing Enterprises.
This changed at Atlanta and started a season long storyline when Moffitt won the race, securing himself a spot in the playoffs. Shortly after the win, an uncommon problem developed for Moffitt. He was performing well, including winning at Iowa and Kentucky, but was struggling to find sponsorship for each race. The AISIN Group sponsored Moffitt for the first 5 races of the season. After that, Moffitt campaigned hard to make sure he had a sponsor on the truck every week in an attempt to keep his playoff hopes alive. Moffitt's campaign was successful, he managed to find a handful of one off sponsorships that allowed him to move on to the next race.
Moffitt was eligible for the playoffs when the time came, completing every race. With good results in the playoffs, including winning at Michigan And Phoenix, he now finds himself in the Championship 4. With his last three races resulting in a second, third, and first place finish, Moffitt seems to be hot at the right time of the season. He did all the right things to get to this point, now all that's left to ensure a Championship is finishing Friday night's Ford EcoBoost 200 ahead of Noah Gragson, Johnny Sauter, And Justin Haley. 
Moffitt was 3rd in first practice and 16th in Final Practice.
The Ford Ecoboost 200 is schedule for Friday night at 8pm local time at Homestead-Miami Speedway.