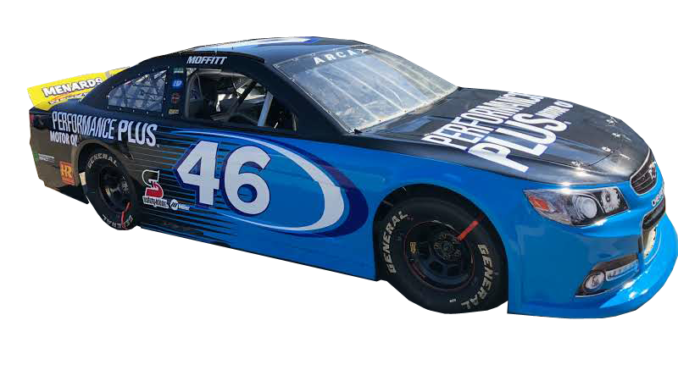 MOORESVILLE, N.C. (January 31, 2019) – Thad Moffitt will have additional support to his growing race program. Today, the Richard Petty Motorsports development driver announced that Apple Spice will serve as an associate sponsor of his No. 46 Chevrolet in ARCA and NASCAR Late Model competition this season. Apple Spice will debut with Moffitt at the Daytona International Speedway in the ARCA Racing Series.
Apple Spice is a box lunch delivery and catering company specializing in business and corporate lunches. The company, founded in 1988, has grown to nearly 50 stores across the nation. The company prides itself on quality food and service. They are proud to support Moffitt, as he too, continues to climb the racing ladder.
"Thad and his Petty family roots match with our company family beginnings," said Stephen Graves, Apple Spice. "And we're proud to support Thad and his racing career as he reaches new milestones. We know that Thad will be a winner and we're happy to now join him on his journey."
Moffitt, the 18-year-old grandson of "The King" Richard Petty, has eight ARCA Racing Series starts and this season will compete on superspeedways and intermediate tracks. Moffitt and his No. 46 Chevrolet Empire Racing team had immediate success in ARCA competition on the short tracks. He's finished in the Top 15 in three of his eight starts, including a Top 10 finish.
"It's great to have Apple Spice join our race team," said Moffitt. "Their partnership will allow us to get better as we take a step forward this season racing on bigger tracks. I want to thank Apple Spice for joining us and I hope everyone will support them. They have great food and I know they'll be helping us out as we travel this year."
A native of Trinity, N.C., Moffitt is the son of Brian and Rebecca Petty-Moffitt. He started racing a go-kart and a quarter midget before moving to a Limited Late Model and now the ARCA Racing Series. Moffitt grew up going to the track with his grandfather Richard Petty and watching his Uncle Kyle race.