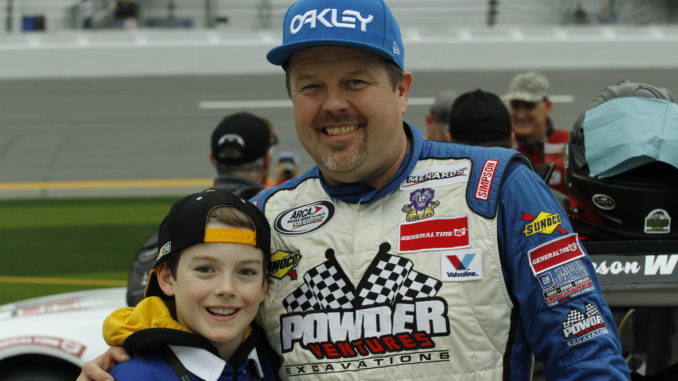 At this time last year, NASCAR Pinty's Series namesake Jason White was at Daytona International Speedway cheering on D.J. Kennington, a long-time friend and competitor, as he competed in his second career Daytona 500.
Flash forward one year, and White is yet again in sunny Daytona Beach instead of snowy Sun Peaks, British Columbia, but this time he's strapping himself in a truck ready to race.
The 45-year-old Canadian had his first taste of the NASCAR Gander Outdoors Truck Series last year at Canadian Tire Motorsport Park driving for Reaume Bros. Racing. In his series debut he finished in the 23rd position. He followed that run up by making one more start before 2018 came to an end at ISM Raceway where he finished 26th.
White's first laps on a big oval came at Daytona in January testing for his ARCA Menards Series debut this past weekend.
"It was pretty exhilarating the first time I got to do it," White told OnPitRoad.com. "About three weeks ago I came down to Daytona for the ARCA test with Andy Hillenburg and Fast Track Racing. I've been coached by DJ Kennington and a couple of other drivers who said when you get out there for your first laps you just have to put it to the floor and leave it there. You have to have faith that it's going to hold.
"Going down into turn three for the first time you really don't think that's going to happen, but it sticks. The more laps you get, the more comfortable you get. By about halfway through the race the other night I was completely comfortable going around the track."
In his ARCA debut, White managed a 16th-place finish and even finished on the lead lap.
"The car just started coming alive. I wasn't very good if I didn't have anybody behind me, but I was really fast when I did. Todd Gilliland was pushing me and he got me hooked up with Bobby Gerhart and the three of us were really fast together," White said. "Once I got that confidence about two-thirds of the way through the race, I really just started switching gears from being safe and smooth to the race car driver in me kicked in. I wanted to go up there and win the race. I could see the leader 40 car lengths ahead of me."
He was racing for a top-15 finish until rookie Thad Moffitt lost a tire in front of him, forcing White to make evasive action to avoid the slowing No. 46 car.
"Unfortunately Thad [Moffitt] had that tire go down. I followed him into [turn] three about three laps in a row before that. I knew something had happened, but I chose to go low and then I had to dart back up high. I should've just stayed up against the wall, but hindsight's 20/20."
The lead lap finish and near-incident-free race was enough to get White certified to run this weekend's upcoming Truck race at Daytona with Josh Reaume's team, a team he feels he's a good rapport with.
"Racing is all about relationships. That's how I've climbed the ladder in racing in general. Hooking up with people like D.J. Kennington who hooked me up with Josh Reaume who hooked me up with Andy Hillenburg for the ARCA race," he said. "It's all those relationships that you work hard it and make sure you keep them because they're how you get into this deal, and mainly even more how you stay here.
"Josh [Reaume] has been great to work with. He's an engineer by trade. He's very meticulous. He works his butt off. He's a racer who works in the shop and also drives. He's not one of those guys that has other people do that for him. I have a lot of confidence in him."
Another relationship White seemingly created was with long-time ARCA veteran and aptly dubbed superspeedway expert, Bobby Gerhart, who is also competing in the Truck race this weekend.
"Bobby Gerhart's pitted right beside us in the Gander Outdoor Truck garages here, so I had a chance to talk with him. He actually said he gained a little confidence in me watching me run and be smooth. Hopefully I can get hooked up with him. He has more experience than most here," he said. "I've also got a teammate in the race here in Josh Reaume. Josh and I have a plan that we're working on together. Hopefully we can get together with another two or three trucks and we can be smart for the first half, and then start digging to get more positions."
In order to be racing on Friday night, White and his No. 34 Powder Ventures Excavations/YourGMCTruckStore.com Chevrolet has to make the field on speed, but he's prepared for the challenge.
"I have to focus on being as fast and smooth as we can in qualifying trim," White said. "We probably won't even put the truck in race trim. We'll just keep it in qualifying trim and come in and put another piece of tape on or take some cross-weight out of it. Just get the truck as loose as possible without putting the back end around."
"I'm very confident. We have a really good truck, a really good motor. It dynoed well. The truck looks very sleek. As long as we can break that air well we should be up in that top-27 come qualifying time."
Daytona isn't the only race White has on his schedule. Along with a six-race Pinty's schedule to put him at 100 starts, the only Western Canada driver to do so, he has three more Truck races circled before moving on to other goals.
"We will most likely do CTMP. We're working on Phoenix again and Talladega. There's a bunch of stuff brewing," he said. "Once we get this year out of the way I want to do what I call "bucket list" races. I want to do some cool tracks, maybe even some XFINITY races. One step at a time."