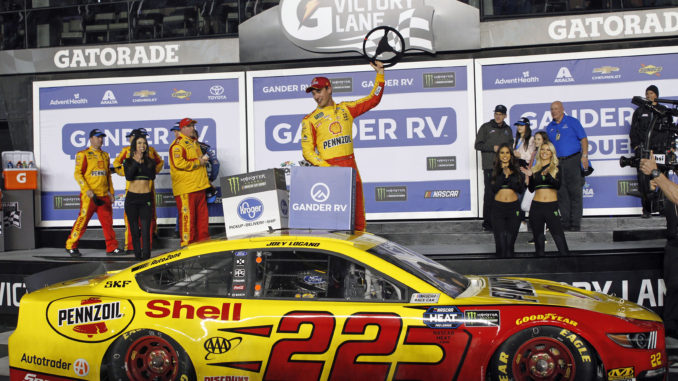 The second Gander RV Duel at Daytona seemed like would be Clint Bowyer's to win — until the last lap when a charge by Team Penske teammates Ryan Blaney and Joey Logano allowed the latter to win his the Duel and lock-up his second row starting position.
Alex Bowman started off the race in the lead, but the Hendrick Motorsports driver took the same approach as teammate William Byron did in the first race of the evening by quickly dropping to the rear of the field.
In the race to make the Daytona 500, Joey Gase made an early attempt to stifle what many thought would be an easy-in for Beard Motorsports driver Brendan Gaughan. The two drivers battled hard for position, side-drafting each other for many of the opening laps until Gaughan pulled away from Gase's No. 66 MBM Motorsports Toyota.
After green flag pit stops finished up, Bowyer found himself in the lead with Denny Hamlin and Aric Almirola behind him. The three of them stayed there until late in the race.
While most of the lead pack stayed single file along the top of the track, Logano, running in the fourth position, saw an opportunity to get to the lead. He backed up to teammate Blaney, and moved past Almirola and Hamlin, getting side-by-side with Bowyer. An attempt by Bowyer to side-draft the No. 22 and slow his momentum wouldn't work, and Logano went on to win the Duel.
Bowyer managed to finish second followed by Almirola, Hamlin and Kurt Busch.
Remaining results:
6th: Ryan Blaney
7th: Jamie McMurray
8th: Chase Elliott
9th: Austin Dillon
10th: Ty Dillon
11th: David Ragan
12th: Kyle Larson
13th: Alex Bowman
14th: Erik Jones
15th: Brendan Gaughan
16th: Corey Lajoie
17th: Casey Mears
18th: Michael McDowell
19th: Ross Chastain
20th: Joey Gase
21st: B.J. McLeod
The four open drivers who join the field of 40 racing in Sunday's Daytona 500 are Parker Kligerman and Brendan Gaughan who raced their way into the race, and Tyler Reddick and Casey Mears who snagged the other spots by virtue of their qualifying speed.
Ryan Truex and Joey Gase are the two drivers who won't race on Sunday.