JOHNSON AND AMBROSE TO RETURN TO TRACK AT ADELAIDE 500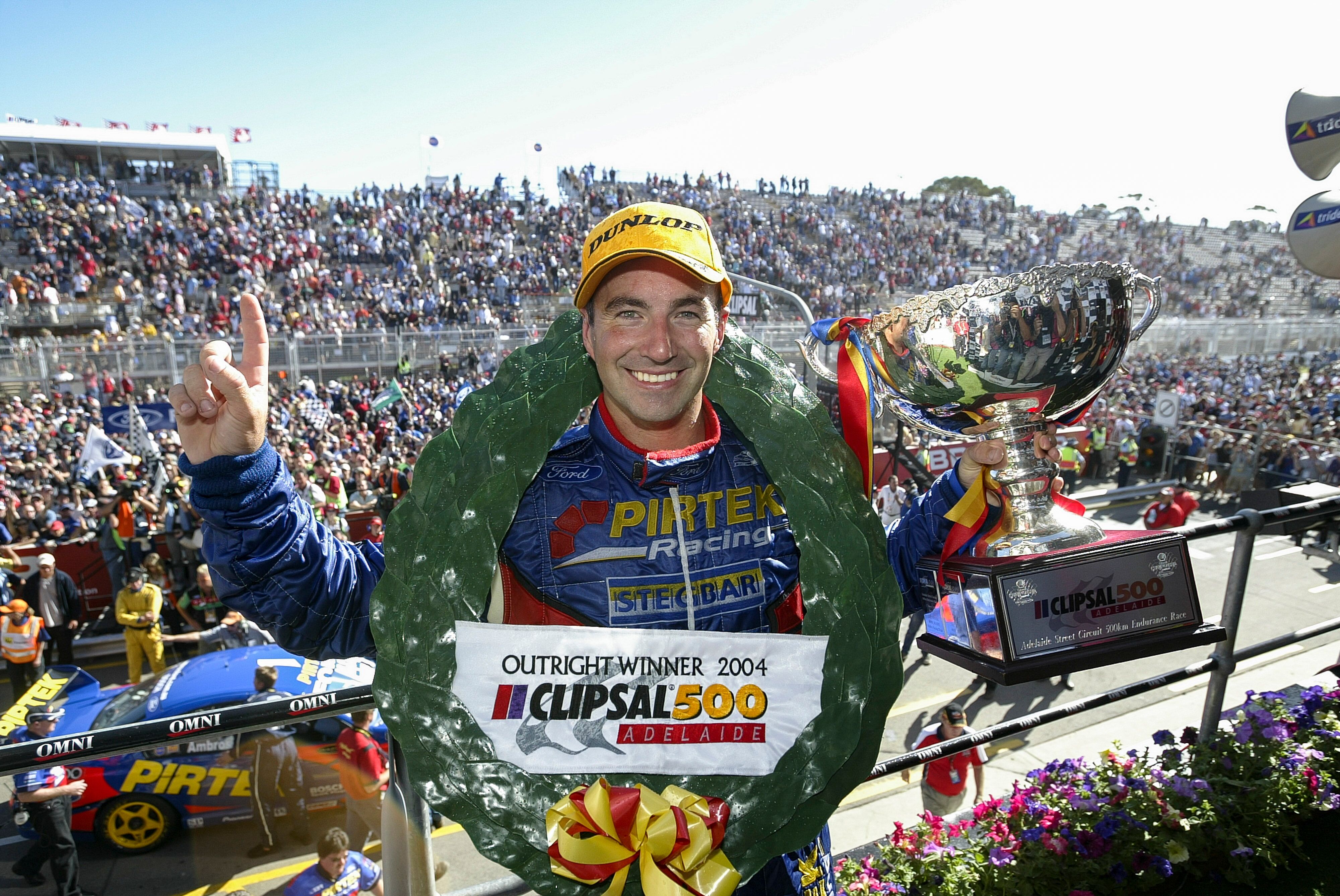 GOLD COAST, AUSTRALIA – [FEBRUARY 21, 2019] –
Racing legend Dick Johnson will strap into a Supercars racer for the first time in over a decade at the upcoming Superloop Adelaide 500, where he will be joined on-track by two-time Supercars Champion Marcos Ambrose.
Johnson, a five-time Australian Touring Car Champion and co-owner of Shell V-Power Racing Team, will get behind the wheel of the Ford Performance Mustang GT Supercar for the very first race-event laps of the new-for-2019 race car.
Ambrose, who won two Supercars Championships in 2003 and 2004 before heading to the United States to undertake a successful NASCAR career, will drive the new-for-2019 Ford Performance Mustang GT NASCAR racer in its first Australian appearance.
Ambrose has not driven a race car since his retirement from full-time competition at the end of 2015.
The legendary pairing will be joined on circuit by reigning Supercars champion Scott McLaughlin, who will take to the circuit in a track-prepared version of Ford's Mustang GT road car.
The Adelaide Parklands circuit has been a happy hunting ground for the group in the past, with Johnson taking victory in his Group A Ford Mustang in the Australian Grand Prix support races in 1985, and Ambrose winning at the Adelaide 500 in 2003, 2004 and 2005. McLaughlin is yet to take a win on the streets of Adelaide, but is looking to rectify that in 2019.
Johnson is looking forward to his first drive of a new-generation spec Supercar, and his first drive in Adelaide since the inaugural event in 1999.
"When I was approached with the concept, the first question I asked was 'what's the lap record?'. But Seriously, it's been a long time since I've been behind the wheel of a full-spec Supercar, and to get the chance to drive the new Mustang is something I'm very much looking forward to," said Johnson.
"Scott and Fabian have been saying plenty of great things about the new car, so it's going to be an honour and a privilege to once again hit the track in Adelaide, for the first time in nearly twenty years. Doing it alongside Marcos and Scott is just the icing on the cake."
Ambrose will return to the track for the first time since his final race at the Gold Coast 600 in 2015, where he co-drove the No.17 DJR Team Penske Falcon.
"It's a great pleasure to come back to Adelaide as a part of this great Ford initiative," said Ambrose.
"It's a track that I remember very fondly, having won a few races there in the past. Doing it in a NASCAR is going to be completely different for me, but I'm really looking forward to it.
"The run-up Bartels Road and into Turn Eight is going to be pretty eye-opening, I reckon. We'll go out there, have some fun and put on a great show for the crowd. DJ and I have been out of the game for a while, but I have a feeling the red mist will descend when we pull the helmets on!" Ambrose concluded.
The Ford Performance 'Parade of Champions' will run three times across the Superloop Adelaide 500 weekend, across Thursday, Friday and Saturday.
About DJR Team Penske – www.djrteampenske.com.au
DJR Team Penske is one of the most successful motorsports teams in Australia, with eight Australian Touring Car / Supercars Championships and three Bathurst 1000 victories, competing as the Shell V-Power Racing Team. Team Penske's U.S. motorsports entities are among the most successful teams in the history of professional sports. Competing in a variety of disciplines, including NASCAR, INDYCAR and IMSA, the team has produced more than 500 major race wins, over 570 pole positions and 34 National Championships across open-wheel, stock car and sports car racing competition. In its storied history, the team has also earned 17 Indianapolis 500 victories, two Daytona 500 Championships, a Formula 1 win and overall victories in the 24 Hours of Daytona and the 12 Hours of Sebring.
For more information, contact:
Ben Nightingale
Media Manager
Shell V-Power Racing Team
M: 0401 454 179
E: ben.nightingale@djrteampenske.com.au