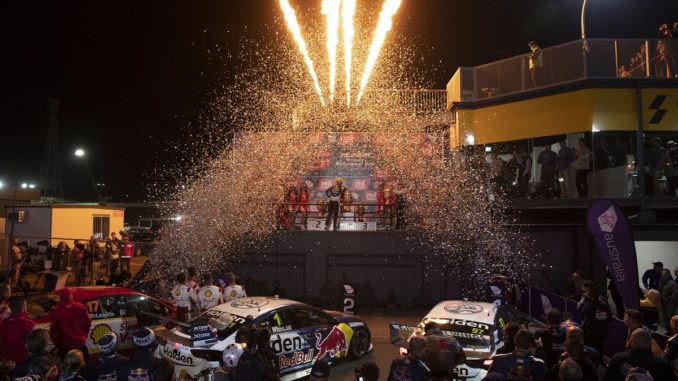 Supercars will return to night racing at NSW's premier motorsport facility following the announcement of a $33 million Government investment in Sydney Motorsport Park.
NSW Minister for Sport Stuart Ayres today announced funding for permanent lighting and infrastructure at the circuit following the success of Supercars' debut under lights at Sydney Motorsport Park last August.
The permanent lighting, consisting of 150 broadcast quality towers, means the hugely successful Sydney SuperNight format will return to the 2020 Supercars calendar, on a date to be determined.
"This is a great step forward in our plans for Sydney," Supercars CEO Sean Seamer said.
"The 2018 night race was a fantastic proof of concept and since then, Glenn Matthews and his team have done a wonderful job to secure these significant upgrades which will establish Sydney Motorsport Park as an elite, 24/7 motorsport facility.
"We look forward to the SuperNight format returning in 2020 and moving on to the second phase of our partnership with the ARDC and NSW Government, which is to establish a Supercars team in Sydney, based at SMSP."
Minister for Sport Stuart Ayres announced more than $33 million will be invested in Sydney Motorsport Park to install permanent lighting, improve the Sydney Dragway and create Australia's only Motor Sports Centre of Excellence.
"Motor sport is the fourth most watched sport in the country and thousands of people in Western Sydney love it which is why we want to ensure the sport has a strong presence in Western Sydney in the future," Mr Ayres said.
"Adding lights to Sydney Motorsport Park will make is more attractive for major events and allow motor enthusiasts to enjoy a lot more track time.
"This will make Sydney Motorsport Park the Silverstone of the Southern Hemisphere."
ARDC President Andrew Leithhead commented: "The ARDC views this additional Government investment in Sydney Motorsport Park as an important continuation of the Club's long-standing commitment to excellence within the Australian motorsport industry.
"A newly expanded SMSP calendar allows for strong increases in the level of innovative high-demand Tier 1 motorsport events headlined by the Supercars Championship night racing and other major events."
Seamer said a Sydney-based team would have the advantage of calling the booming western corridor home along with the premium facilities offered at Sydney Motorsport Park.
"A Sydney franchise would have premium facilities on their doorstep," he said.
"This initiative will provide a manufacturer, team and their partners with immediate access to an international race track, premium function facilities for major corporate events, vehicle launches, drive days, vehicle appreciation sessions, product R&D and conferences.
"This also provides the catalyst to link Supercars' technology, education and training with Western Sydney's strong tertiary education and engineering communities.
"A Sydney-based team will also have the growing greater Western Sydney community as a support base given the huge number of Supercars fans in the western corridor of Australia's largest city."
Supercars night racing heads to the PIRTEK Perth SuperNight in May this year.