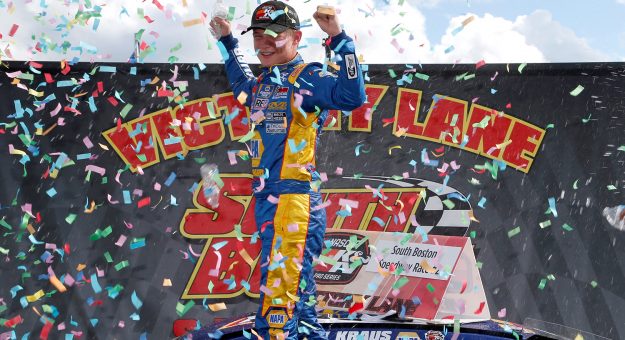 South Boston, VA……Derek Kraus had to wait an extra day for a win, but it was worth the wait for the Stratford,Wisconsin teenager.
Kraus sped past Max McLaughlin at the midway point of the second race of Saturday's storm interrupted whosyourdriver.org NASCAR K&N Pro Series East Twin 100s at South Boston Speedway that was completed Sunday afternoon, and rolled to his second NASCAR K&N Pro Series East win of the season.
The second race of the pair of twin 100-lap NASCAR K&N Pro Series East races scheduled for Saturday night was stopped by a severe thunderstorm after 20 laps, and the race resumed at that juncture Sunday afternoon.
Kraus' previous win came in the season opener at New Smyrna, Florida, in an event that was also interrupted and postponed due to rain.
Chase Cabre of Tampa, Florida took the runner-up spot, .670-second behind Kraus, with McLaughlin finishing third, first-race winner Tanner Gray of Artesia, New Mexico finishing fourth and Spencer Davis of Dawsonville, Georgia rounding out the top five finishers.
With the win Kraus, who is competing for the NASCAR K&N Pro Series West title, moved to within 11 points of NASCAR K&N Pro Series East points leader Sam Mayer, who had Kyle Benjamin subbing for him Sunday afternoon.
Layne Takes Hornets Division Win
Steven Layne of Nathalie, Virginia picked up his second win of the season in Sunday's 15-lap Budweiser Hornets Division race.
Layne was awarded the win after apparent race winner Kenny Mills Jr. of  Alton, Virginia was disqualified by track NASCAR officials following the race.
Kevin Currin of Chase City, Virginia was awarded the runner-up spot, with Aaron Cash of South Boston, Virginia, Donald Clay of Clover, Virginia and Josh Dawson of Halifax, Virginia completing the top five finishers.
Next Race At South Boston Speedway
NASCAR racing action returns to South Boston Speedway on Saturday night, May 18 with the Bojangles NASCAR Late Model 100 racing program.
Getting the green flag at 7 p.m., the six-race Bojangles NASCAR Late Model 100 racing program will be highlighted by a 100-lap race for the competitors in the NASCAR Whelen All American Series Late Model Stock Car Division. Twin 25-lap races are on tap for the Limited Sportsman Division. Twin 15-lap races for the Budweiser Pure Stock Division and a 15-lap race for the Budweiser Hornets Division will round out the night's action.