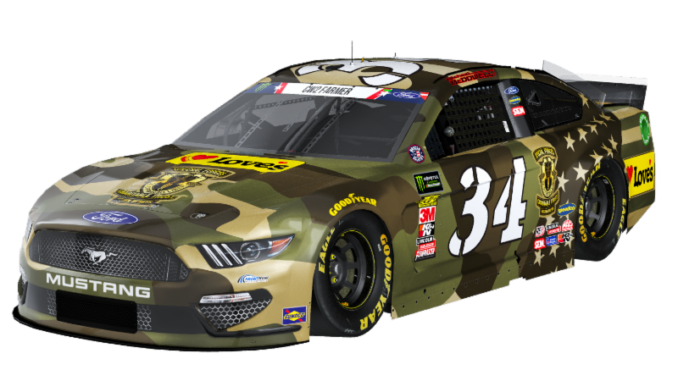 No. 34 Team to Run Patriotic Paint Scheme During the Coca-Cola 600
MOORESVILLE, N.C. (May 15, 2019) – Michael McDowell's No. 34 Love's Travel Stops Ford Mustang will honor a fallen service member as part of a patriotic paint scheme for the Memorial Day weekend at Charlotte Motor Speedway. The decal across the top of the windshield of McDowell's car will display the name of Chief Warrant Officer 2 Jonathan Farmer. CW2 Farmer died of wounds sustained during an attack while conducting a local engagement in Manbij, Syria earlier this year.
McDowell will race with a camouflage paint scheme designed internally by the Love's marketing team honoring the 37-year old Farmer and his family for the race on May 26, featuring a nod to the Special Forces Charitable Trust, which serves past and present U.S. Army Special Forces soldiers and their families through direct service programs such as scholarships, veteran assistance, transition programs and family support services.
CW2 Farmer joined the U.S. Army in 2005 and served on six overseas combat tours: twice in support of Operation Iraqi Freedom in October 2007 and January 2009; once in support of Operation New Dawn in August 2010; once in support of Operation Enduring Freedom from January 2012; and twice in support of Operation Inherent Resolve in January 2016 and January 2019 until his passing.
"On Memorial Day and every day, we recognize the sacrifices made by the brave men and women of our military," said McDowell. "We are proud to have Chief Warrant Officer 2 Jonathan Farmer's name on my car for the Coca-Cola 600. It is because of his selflessness that we are able to do what we do each and every day."
"We're grateful for the opportunity to participate in the NASCAR Salutes program with this patriotic paint scheme and Chief Warrant Officer 2 Farmer's name on the windshield," said Dave Frankenfield, Vice President of Marketing at Love's Travel Stops. "It's one small way that we are able to pay tribute to the men and women who serve our country and have given their lives to protect our freedom."
The No. 34 Love's Travel Stops patriotic paint scheme will take to the track on Thursday, May 23 for practice and qualifying. The "Coca-Cola 600" Monster Energy NASCAR Cup Series race will air Sunday, May 26 at 6:00 p.m. on FOX.
About Front Row Motorsports
Front Row Motorsports (FRM) is a winning organization in the Monster Energy NASCAR Cup Series. The team was founded in 2004 and is owned by successful entrepreneur, Bob Jenkins. FRM fields three full-time entries – the No. 34 of Michael McDowell, the No. 36 of Matt Tifft and the No. 38 of David Ragan – from its Mooresville, N.C., headquarters just outside of Charlotte. The team's partnership base includes CITGO Petroleum Corporation, Ford Performance, Love's Travel Stops, Select Blinds, Shriners Hospitals for Children, Surface and Speedco. Visit teamfrm.com and follow FRM on social media: Twitter at @Team_FRM, Instagram at @team_frm and Facebook at Facebook.com/FrontRowMotorsports.