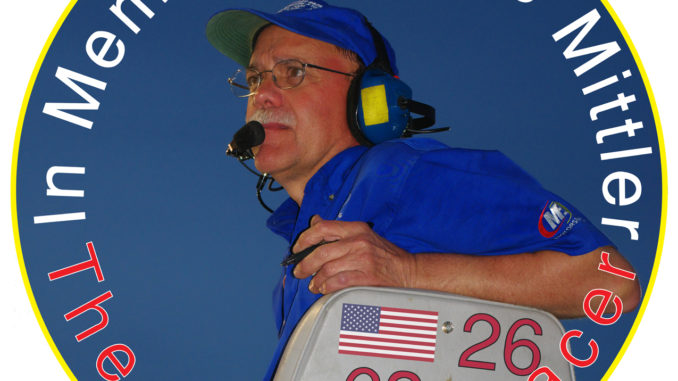 Wright City, MO- When the trucks hit the track at Charlotte Motor
Speedway on Friday, they will all have one thing in common, a tribute
decal to MB Motorsports founder Mike Mittler. Mittler's hard fought
battle with cancer came to an end with his passing on Friday, May 10th.
Racing was a big part of Mike Mittler's life for half a century.  "I've
always loved racing and got involved in 1968," Mittler said in 2011.
"Through local races I got to know the Wallace family.  I worked on the
crew that helped Rusty Wallace become the USAC stock car Rookie of the
Year and 1983 ASA Champion.  We ran some NASCAR Busch races and did a
few Cup events as well.  When Rusty moved south, I started helping Kenny
Wallace and was with him when he was crowned the 1986 ASA Rookie of the
Year."
During his early years in racing, Mike worked at Fran's Chassis
Engineering in St. Louis.  "We built drag race cars from pro stocks to
top fuel and funny cars," he explained.  Mike, along with brother, Paul,
founded Mittler Brothers Machine & Tool Company in 1980.  It was a
gamble, but Mike Mittler's life has always revolved around building
things.  "I like the challenge and satisfaction of putting things
together, and reaching a goal."  Whether it's building a race car or a
business, Mittler enjoys the process of seeing dreams come true.
Mittler Brothers Machine & Tool has grown to employ more than 60
highly-skilled machinists and support personnel in Wright City, Missouri
(40 miles west of St. Louis).  The plant includes the latest computer
controlled design and machining equipment.  Products, including auto
racing tools and performance components, are sold across America, as
well as in Canada, Mexico, South America, Europe, the Middle East, and
Australia.
The company took the next step in racing by starting its own team.  In
July 1995, at the historic Milwaukee Mile, MB Motorsports made its
debut.  Over the next 23 years, MB Motorsports gained the reputation for
bringing young  and talented drivers into NASCAR racing.  The list of
drivers who have piloted trucks for Mike Mittler is impressive: Carl
Edwards, Jamie McMurray, Brad Keselowski, Justin Algaier, Regan Smith,
Bobby Pierce, Garrett Smithley, Spencer Boyd and many more.
And while Mike built a reputation for grooming young talent on the
track, his racing presence in race shops was even stronger, as one would
be hard pressed to find a shop that hasn't used Mittler Brothers
equipment at some point. In addition, he served as President of the
National Tooling and Machining Association and spoke before Congress not
once, but twice.
Mike was the racer's racer and will be missed by all who knew him.