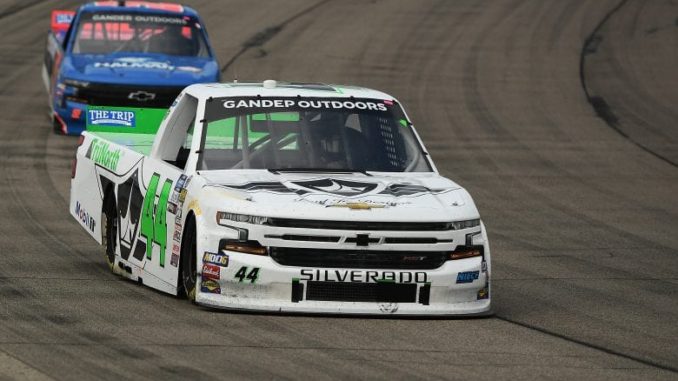 A mere month ago, Ross Chastain wasn't in the picture when talking about the championship hunt in the NASCAR Gander Outdoors Truck Series, despite having already won at Kansas Speedway. He made the late decision to declare for points in the series, and he's already put his name back in the discussion after winning his second race of the season at Iowa Speedway.
Chastain led 141 of 200 laps, and won both stages, in the rain-postponed race. He started the race from the 19th position after a monsoon on Saturday forced the cancellation of qualifying.
The early portion of the race was dominated by 16-year-old debut driver Chandler Smith, driving the No. 51 Safelite Toyota for Kyle Busch Motorsports. The ARCA standout started on the pole, and led the opening 55 laps of the race. Smith encountered radio problems early in the event, unable to hear his spotter. His team was forced to make a helmet swap during the first caution which eradicated the problem, but dropped him to the back of the pack.
At the end of the second stage, Smith found his way back to the front, but a pit road speeding penalty effectively ended his chances at a win.
The race was relatively clean at the beginning, aside from an early caution for Mexico's Juan Manuel Gonzalez blowing a tire and crashing just 53 laps in. The driver making his series debut for Jennifer Jo Cobb Racing would go on to finish 31st.
Later in the race, Johnny Sauter and Daytona race winner Austin Hill were racing each other hard, and emotions spilled over. Sauter made a move around the No. 16, but clipped Hill's rear-end. The Hattori Racing driver, none-too-pleased, retaliated on the following lap by wrecking Sauter's ThorSport Racing truck. Under the caution, Sauter took the incident another step further by standing on the gas and putting Hill's truck into the wall at green-flag pace. NASCAR parked the driver of the No. 13 and called he, Hill and both teams to the hauler.
Iowa native and defending race winner Brett Moffitt put up a fight against Chastain in the closing laps, but it wasn't enough to get around the Niece Motorsports driver. Moffitt would finish second followed by Ben Rhodes, Harrison Burton and Grant Enfinger.
Stewart Friesen, Matt Crafton, Sheldon Creed, Smith and Raphael Lessard rounded out the top-10 finishers.
With his win, Ross Chastain only needs to break into the top-20 in points to become playoff eligible, and make the post-season.