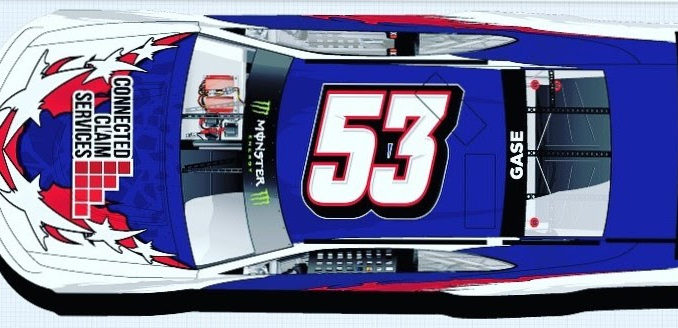 DAYTONA BEACH, FL (July 2, 2019) — When the green flag waves at Daytona International Speedway this weekend, the hood of the cars driven by Joey Gase – the No. 35 Toyota Supra running in the NASCAR Xfinity Series Race and the No. 53 Chevrolet Camaro ZL1 running in the Monster Energy NASCAR Cup Series race — will both be sporting a new sponsor that is a familiar name throughout Florida. Connected Claim Services has joined forces with Joey Gase Racing and Rick Ware Racing to adorn the hood of Gase's racecar and promote its brand of adjustment services, which provides solutions to businesses and municipalities when a hurricane or other natural disasters hit.
"Our company culture aligns with the morals, values and winning spirit of Rick Ware Racing and especially with the team driver Joey Gase," said Barry Barbee, CEO of Connected Claim Services. "It's an honor to sponsor the team and be a part of what promises to be an exciting weekend at Daytona International Speedway. We're thankful for our partners that co-sponsored the patriotic-themed No. 53 during the Coke Zero 400 race."
Connected Claim Services provides insurance carriers across the United States with the highest quality adjusting services. The company primarily focuses on properties insured through municipal insurance trusts. Most recently Connected Claim Services was the primary insurance adjusting firm leading the way to restore damages resulting from the historic Category 5 Hurricane Michael that made landfall near Panama City, FL, causing more than $25 billion in damages.
Joey Gase will run both races at Daytona, covering more than 650 miles between Friday and Saturday nights. In addition to the Connected Claim Services logo, the cars will also carry the logo of the National Auto Body Council, of which they are a Level One partner and Barbee serves as a director-at-large.
"This is a tremendous opportunity to partner with Connected Claim Services to bring awareness to the solutions they provide businesses and consumers across Florida," said Gase. "It's exciting to run the double-header at Daytona under the lights. We got some great experience here in February, and we're looking forward to having a good race both Friday and Saturday night."
"As Florida enters hurricane season, now is the ideal time to help businesses and homeowners prepare for potential damage and their recovery needs through the solutions offered by Connected Claims Services," added Barbee. "And, we are also shining a spotlight on the National Auto Body Council, which helps change and save lives through programs that refurbish and donate vehicles to those in need, educates first responders on advanced emergency extrication techniques and creates awareness about the dangers of distracted driving."
Barbee sits on the National Auto Body Council Board of Directors and serves as the organizations Director-at-Large