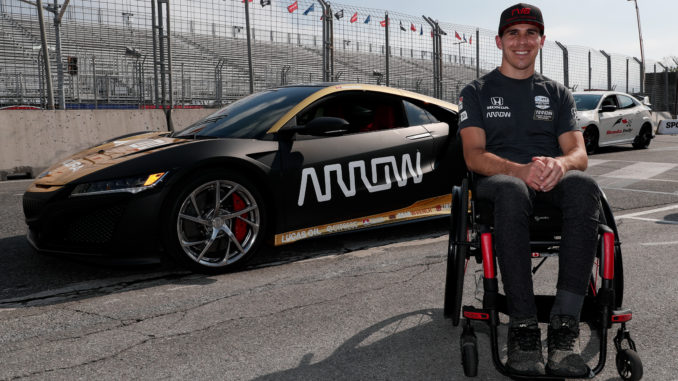 A little less than 11 months ago, Guelph, Ont.'s Robert Wickens was fighting for his life in hospital. Many thought he would never walk again, let alone drive a car, but the Canadian is getting back behind the wheel this weekend.
No, Wickens isn't racing, but he'll be pacing the NTT Data IndyCar Series drivers ahead of the Honda Indy Toronto driving an Acura NSX equipped with hand controls on Sunday.
"I was able to get a couple practice laps in yesterday, and it put a huge smile on my face. Just to think how fortunate I am, one, to have such great partners around me to make this happen. Racing is my dream, it's my passion, it's all I want to do. And to have a company like Arrow to be so hands-on building the hand controls and then a company like Honda that somehow trusts me with a very expensive car is — I still don't know why. But I actually bent a wheel already," Wickens said in a Friday press conference. "I'm notoriously hard on equipment. I tell everyone that when I start working with them.
Wickens was severely injured in a crash at Pocono Raceway last August that left him with a spinal cord injury. He was placed in a medically-induced coma for nearly two weeks. When he emerged, it would be a long road to recovery, one that isn't finished yet.
"It's been a big eye-opener for me, this whole injury. I have a whole new perspective on life, which I guess there's good to take away from that, but the biggest thing for me is when I was in rehab every single day, it was the support that I had from my racing partners, from my family, from [my fiancee] Karli, from all the fans, from everyone that kind of was getting me there to the gym the next day, and I was always — when I was at rehab, I was just patient 31265, and then you get to become friends with these patients and you hear their story, and then like I get back to my place at the end of the day and I kind of think like, man, I'm so lucky that I have such great support everywhere.
"If I'm having a bad day, just all my fans can just come and pick me up where everyone else can easily get into this big spiral and get into some depression and everything," Wickens said.
Returning to his hometown, Wickens bore witness to hordes of fans wearing his hats and t-shirts, a sight he doesn't take lightly, especially still being so new to IndyCar fans.
"It's phenomenal. The support that I got from this race last year was a crazy, crazy experience," he said. "Everyone — when I look back on my season, like this race was the highlight of my year. It wasn't the Indy 500, it wasn't my first podium in Phoenix, it was this one, just because it was my first home race in 12 years, and to get on the podium and to feel the home support, again, for the first time in so long, it was just incredible.
"And then to be honest, since I've been back, since post-injury, every race I've been to has almost had that same atmosphere. Everyone is just so supportive of me in my recovery to get back, and the INDYCAR fans are one of the best in the business, and they're so loyal and they're so passionate. Like I touched on before, it's them that really kind of picked me up on my down days, and being here, seeing so many hats and shirts is — it makes me want to get back. I want those guys to have a reason to wear the shirt, not to make it a pajama shirt or something."
As Wickens gets ready for another set of hot laps on Sunday, he still has his eyes on the future; making it to the finish line, of which he has many. His first finish line is dancing with his fiancee Karli at their wedding in a few months.
"I think the target after the wedding is to hopefully have a trial basis steering wheel setup so I can get on the Honda IndyCar simulator and get to work," he said.
Before all that, he'll drive the Acura NSX on Sunday, and if he has it his way, he'll make more than the intended one-and-a-half pace laps around the circuit.
"I'm trying to figure out what that penalty would be if I just kept going."