Michael Self Slays Springfield Dirt; Christian Eckes Stay in Title Hunt with Runner-Up Finish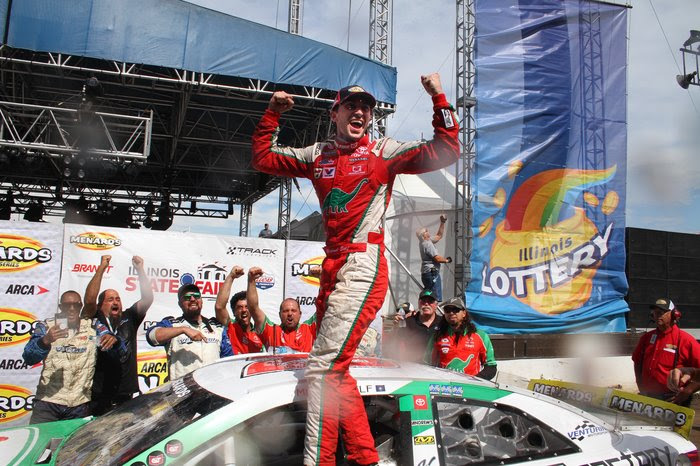 Making his first career dirt start Michael Self (No.25 Sinclair Oil/Factory Canopies Toyota) answered the bell capturing his fourth ARCA Menards Series victory of the season in front of a near capacity crowd at the Illinois State Fairgrounds during the Allen Crowe 100.
Self's victory marks Venturini Motorsports fourth win in a row and the team's eleventh in 2019 – in what can only be described as a dream season for the longtime ARCA team.
Self, the current series championship points leader edged out teammate Christian Eckes (No.15 JBL Audio Toyota) during a two-lap shootout and extended his points lead after dominating the second half of Sunday's race in Springfield.
Self, 28, qualified ninth and ran mostly inside the top-five for the first 50-laps before taking the lead after the midway point from another Venturini Motorsports teammate, Logan Seavey (No.20 Craftsman/TurnOne Toyota), who started first after earning his first career General Tire Pole Award and finished fourth overall.
Once overcoming Seavey, Self would build nearly a four-second advantage over the field until a late race caution flew with less than ten laps to go. The caution would force overtime and green-white-checkered dash to the checkered.
Self got the break on the restart and kept his Sinclair Oil Toyota up front as last year's race winner, Eckes, went from fourth to second to finish one spot behind his teammate.
"What a day for this Sinclair Oil backed team," said Self. "I honestly didn't know what to expect coming into this race with no dirt experience. But I've got a bunch of great people helping me along the way. I can't thank my teammates and crew chief Shannon Rursch enough for all the pointers – and Billy (Venturini) and Frank (Kimmel) for helping me make the transition – it was a total team effort."
"I did not want to see that last yellow. I was really nervous. I knew we had to get a great restart. It was pretty wild going off into turns one and two. It was a great day for this twenty-five team."
Eckes was happy to come across the line in second knowing he could have given up a lot more ground to Self in the ARCA Menards Series championship battle.
"We're satisfied with second but we needed more than that today," Eckes said. "We were sitting fourth before that last restart so it could have been worse than that. It's just a shame we gave up everything we picked up after winning at Pocono."
Self continues to lead the ARCA Menards Series championship standings with an un-official 105-point lead over Eckes headed into the Southern Illinois 100 at DuQuoin on August 31.